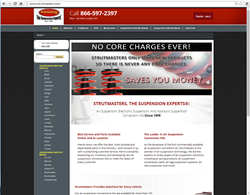 On newer cars, using resistors to turn off the Check Suspension light is no longer feasible. The computers are expecting more elaborate signals than resistors can provide. This is why Strutmasters developed the Light Fix Module.
Roxboro, NC (PRWEB) April 16, 2014
Strutmasters has been the leading provider in automotive suspension solutions for the past decade and continues to make leaps and bounds in this niche. Beginning with only several core products to now providing over several thousand parts and products, Strutmasters has always kept the best interest of their customers at heart. Searching through inventory for the correct parts can become a very tedious and time consuming process, not to mention the possibility of even purchasing the wrong parts after triple checking behind yourself. This is why Strutmasters has raised the bar and now offers parts categorized by vehicle type and brand. Not only does this simplified website allow you to find your parts quickly but also displays all other makes and models that your part will fit. They have also designed a login area for returning customers/shops that saves your previous order details excluding billing information to save you time when you're in a crunch to get that failed air suspension system converted to non-air suspension and back on the road.
Striving to meet the needs and exceed the expectations of the masses has pushed Strutmasters into a new realm of the automotive industry; customizing and producing highly sought-after conversion kits for air suspension systems that can't be found anywhere else other than Strutmasters. Providing suspension alternatives for high-end vehicles such as Mercedes and Cadillac has set them apart from the competition. Still, staying focused on top sellers like Lincoln, GMC, Ford and many others, Strutmasters continues to research and improve upon existing products to bring consumers the very best solutions available on the market.

Strutmasters kits are designed to "bolt on" without modification to the vehicle.
Strutmasters kits are made from new components, never rebuilt.
Strutmasters uses premium quality Eibach springs in its kits.
Strutmasters maintains a list of Certified Installers throughout the US.
Strutmasters offers installation services for customers in the local area.
Strutmasters does not require a core charge on its kits.
Strutmasters has an A+ rating with the Better Business Bureau.
Strutmasters maintains ASE certified technicians on staff to assist customers with their kits.
About Strutmasters, LLC
Strutmasters was founded by Chip Lofton in 1999. Since then, dozens of dealerships, parts and service chains nationwide, and tens of thousands of individual drivers like you have installed our kits. Well known companies that have purchased and used our product include: Midas, Meineke, Monroe, Ford, Walker Auto Stores, Kirks Management Co., and we have even done a conversion kit for the C.I.A.!