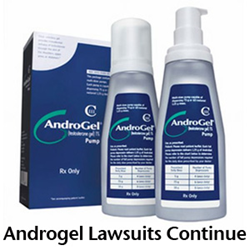 If your believe you have suffered cardiovascular problems due to testosterone therapy drugs such as Androgel and Testim, Call Wright & Schulte LLC today for a Free Legal Evaluation at 1-800-399-0795 or by visiting www.yourlegalhelp.com
New York, NY (PRWEB) April 14, 2014
A new AndroGel lawsuit has been filed in Illinois federal court on behalf of a Georgia man who is seeking actual and compensatory damages for heart attacks he contends were caused by the low testosterone therapy. The complaint, which was filed in the U.S. District Court, Northern District of Illinois, on March 12, 2014, accuses AbbVie Inc., the manufacturer of AndroGel, of wrongly marketing the medication as a safe method of alleviating symptoms associated with aging that has few side effects. (Case No: 1:14-cv-01726)
According to the Adrogel complaint, the Plaintiff was prescribed AndroGel and used it as directed from November 2011 to February 2014 to treat symptoms he attributed to low testosterone after viewing advertisements for the medication. In doing so, the Plaintiff says he relied on claims made by AbbVie, Inc. that testosterone had been clinically shown to safely and effectively raise testosterone levels. He was diagnosed with the first of three heart attacks on or about January 8, 2013, complications the Plaintiff attributes to the use of AndroGel.
As a result of his injuries, the Plaintiff claims that he must undergo regular testing, adhere to a restrictive diet, and take medication. His history of heart attacks also places the Plaintiff at a markedly increased risk of additional cardiovascular disease, cerebrovascular accidents, and death. The lawsuit further alleges that had the Defendants adequately disclosed the dangers associated with AndroGel, the Plaintiff would have avoided the risk of heart attack by either not using AndroGel at all, severely limiting the dosage and length of use, and/or by closely monitoring the degree to which the drug was adversely affecting his health.
According to court documents, this is just one of more than 30 AndroGel lawsuits filed in federal courts around the U.S. on behalf of men who allegedly suffered heart attacks, strokes and other cardiovascular problems due to AndroGel. On March 28, 2014, plaintiffs named in a dozen of these clams field a petition with U.S. Judicial Panel on Multidistrict Litigation (JPML) seeking the establishment of a multidistrict litigation for all federally-filed AndroGel lawsuits in the Northern District of Illinois. Among other things, these lawsuits all claim that AndroGel caused users to experience life-threatening cardiovascular problems, including heart attacks, strokes, and/or heart failure. They further allege that the manufacturer of the drug engaged in aggressive marketing that caused many men to seek treatment with AndroGel as a remedy for problems normally associated with the aging process, even though they had no medical need for such treatment. (In Re: AndroGel Product Liability Litigation, MDL Docket No. 36).
Court filings indicate that the litigation surrounding AndroGel began to grow following the January 31st announcement by the U.S. Food & Drug Administration (FDA) that it was reviewing the safety of low testosterone therapies, after two studies indicated that drugs like AndroGel might increase the risk of heart attacks, strokes and death in older men or men with pre-existing heart problems.
(fda.gov/Drugs/DrugSafety/ucm383904.htm, January 31, 2014)
Wright & Schulte LLC is offering free, no-obligation legal reviews to individuals who suffered serious and life-threatening cardiovascular events that may be linked to their use of AndroGel. To learn more, or to arrange for a free legal consultation with an attorney at Wright & Schulte LLC, please visit yourlegalhelp.com.
Wright & Schulte LLC, an experienced personal injury firm, is dedicated to the belief that America's legal system should work for the people. Every day, the attorneys of Wright & Schulte LLC stand up for the rights of people who have been injured or wronged and fight tirelessly to ensure that even the world's most powerful corporations take responsibility for their actions. If you're looking for a law firm that will guarantee the aggressive and personal representation you deserve, please do not hesitate to contact Wright & Schulte LLC today. Free AndroGel lawsuit case evaluations are available through yourlegalhelp.com or by calling 1-800-399-0795.
Contact:
Wright & Schulte LLC
1-800-399-0795
http://www.yourlegalhelp.com
http://www.facebook.com
http://www.twitter.com