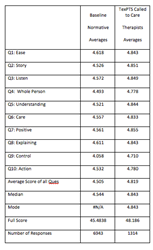 Louisville, KY (PRWEB) April 15, 2014
Texas Physical Therapy Specialists (TexPTS), Evansville-based ProRehab, and North Carolina's BreakThrough Physical Therapy (BTPT) have become preeminent providers of outpatient physical therapy in their respective regions, thanks to a new compassionate care training initiative aimed at improving patient care, results and overall recovery process.
Called to Care is an online course, developed by Evidence In Motion, that was designed to shift healthcare away from deeply impersonal care towards an enhanced commitment among caretakers to high quality patient connections with an emphasis on compassion and empathy. The training program gives therapists the tools they need to focus more on personalized patient care with compassion at its core. TexPTS, ProRehab, and BTPT are the only three practices in the United States taking part in this training while actively monitoring the results with a validated instrument, the Consultation and Relational Empathy (CARE) Measure.
"Called to Care has truly changed the way our PT's treat and interact with patients," said Dr. Larry Benz, DPT, OCS, MBA, co-creator of Called to Care, and part owner of TexPTS, ProRehab, and BTPT. "In today's cookbook healthcare environment, it's not uncommon for the patient and their specific needs can be totally ignored. The Called to Care training, based on research findings emphasizing empathy, listening, and compassion, is more important than ever as we try to shift away from that norm and back towards high quality connections with patients."
In addition to the online portion, Dr. Benz conducts an internal onsite session where he meets with employees to give an overview of Called to Care and it's guiding principles. There are also group sessions where employees share stories of remarkable experiences with patients and then focus on the successful steps that led to these experiences.
"We've had great feedback from our patients since implementing Called to Care training," said Andrea Baumann, owner of ProRehab. "We are focusing more on the connecting with people, learning more about their lifestyle and goals to create a treatment plan customized to reflect those goals. We're thrilled with the results and believe this will have a huge impact on the patients in our community."
About PT Development:
PT Development (PTD), founded by Larry Benz, PT, DPT, is a Louisville, Kentucky-based private equity company focused on adding value to healthcare organizations by cultivating quality, customer service, advocacy leadership and innovation. Benz's entrepreneurial success began when he founded the Louisville-based Kentucky Orthopedic Rehab Team (KORT). In 2007, Benz sold his interest in KORT and focused his efforts on PTD's startups such as TexPTS, Indiana-based ProRehab, Evidence In Motion (EIM), and several others. PTD offers the following management services: evidence-based practice, patient loyalty, regulatory assurance, marketing and branding, clinic operations, hiring and retention, strategy, accounting and finance, and customer service. For more information about PTD, please visit PTDevllc.com.

Measuring Called to Care Impact: The validated instrument, Consultation and Relational Empathy (CARE) Measure, (Mercer, 2004) was chosen as the method of assessing the impact of Called to Care in assessing the shift in behavior of the participating physical therapists. It was selected because it incorporates key constructs of positive psychology that are part of the curriculum including empathy, quality connections, and positivity. CARE also has a normative database that allowed comparison of our results to various databases including a publicly available dataset of 62,357 questionnaires from 1,520 different professionals including physiotherapists from the UK. Over 1300 new patients of trained physical therapists from five physical therapy clinics in Texas were given a confidential space and mobile platform to enter their response to the ten questions after their initial visit (attached photo). The questions reflect the following on a five-part likert scale from fair to excellent:
How was the physical therapist at…
1. Making you feel at ease
2. Letting you tell your story
3. Really listening
4. Being interested in you as a whole person
5. Fully understanding your concerns
6. Showing care and compassion
7. Being positive
8. Explaining things clearly
9. Helping you to take control
10. Making a plan of action with you