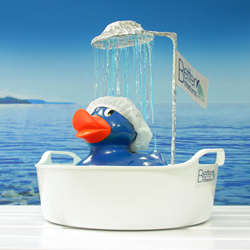 (PRWEB UK) 15 April 2014
Manchester is set to get quacking again with a day of family fun at the Manchester Duck Race at Spinningfields on Good Friday (April 18th).
There is a whole host of activity set to take place across the estate, to entertain the thousands of families that come down to watch their rubber ducks race along the Spinningfields stretch of the River Irwell. At the heart of the action will be a massive 6m x 6m inflatable duck, which has been sponsored by Better Bathrooms.
In addition, Better Bathrooms will be entering the Corporate Duck Race and are hoping they will be in pole position with Howard The Duck. Although coming first is a massive honour, many companies are hoping to win Best Dressed Duck. This accolade is decided by the public, to cast your vote go to https://www.facebook.com/Spinningfields.
Looking to do his bit, Howard has his own video campaign to help raise awareness for this event; a special 'Good Luck Howard' video has been created and can be viewed here: http://bit.ly/GoodLuckHoward.
Colin Stevens, CEO and Founder of http://www.betterbathrooms.com, added: "I am very proud to be part of the Duck Race and sponsor the iconic Big Duck. Everyone at Better Bathrooms has been getting involved from discussing creative ideas, being part of the promo video to baking cakes. The Duck race is not only the perfect family fun day out, it will raise a lot of money for the children's charity Brainwave – their hard work and dedication helps children with disabilities unlock their potential – their enthusiasm and proactive approach is amazing and I am sure this event will be a great success."
Now in its fifth year, it costs just £1 to enter a racing duck in the family event. Ducks can be purchased online at http://www.ticketsource.co.uk/brainwave or on the day, with all proceeds going to local children's charity Brainwave. In the two weeks preceding the race, there will be a red double decker bus driving around the city centre, selling ducks. The bus will also be parked up on Spinningfields Square for the two weekends prior to the race, to provide people with plenty of opportunity to buy as many ducks as they'd like.
There will be a number of additional activities including a hook a duck, cups and saucers, an activity craft tent, a giant tombola, a film screening of 'Mighty Ducks' on The Lawns and a number of inflatables such as a bouncy castle and slide. As well as the numerous restaurants on site, there will be several food stalls vans selling the likes of candy floss, ice cream and hot food.
Better Bathrooms will also be running a special competition on the day and on their Facebook page http://www.facebook.com/betterbathrooms – all the money raised will go to Brainwave.
Bitter Twisted will be providing a VIP bar on the day as well as a bar for the general public, with a percentage of the proceeds donated to Brainwave.
Nando's will provide a special offer on the day and will also have their mascot walking around the estate, while The Alchemist is creating a special Ducktail for the day.
Free to attend, the race itself will start at 2pm.