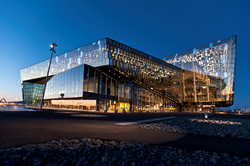 "We will see more disruption in the next ten years of retail than we did in the previous one thousand" said Doug Stephens.
(PRWEB) April 16, 2014
LS Retail, an international provider of end-to-end solutions and services for retail and hospitality businesses utilizing the Microsoft Dynamics software, is wrapping up the final preparation for conneXion 2014 that will be hosted in Reykjavik, Iceland on May 13th and 14th. conneXion 2014 brings together retail and hospitality expertise under the theme: Be the future.
"We will see more disruption in the next ten years of retail than we did in the previous one thousand," said Doug Stephens, founder of industry website Retail Prophet and author of The Retail Revival: Re-Imagining Business for the New Age of Consumerism.
To help face this revolution and be the future, LS Retail created conneXion 2014, Retail and Hospitality Conference & Expo. Doug will be one of the speakers at conneXion 2014, which will be officially opened by the President of Iceland, Mr. Olafur Ragnar Grimsson.
LS Retail is delighted to be hosting a conference created to give industry professionals an opportunity to network while learning valuable solutions and the latest innovations.
Key topics in retail and hospitality will be addressed, like how retailers and hospitality businesses can retain their customers in an effective way through e-commerce and mobile retailing, and how to provide more personalized service to the customer, optimize inventory, cut costs and increase profits.
Mr. Martin Walz from adidas will demonstrate the adidas sales approach, which is simple yet bold at the same time: "Putting consumers at the heart of adidas and creating a best-in-class shopping experience across all sales channels." In his session participants will hear about the development of the adidas-LS Retail solution over the last years, how the team handled market related requirements e.g. legally or fiscally, and how adidas reached an optimized Retail landscape with LS Retail.
Aer Rianta International, or ARI as we are known today, is one of the world's longest-established and most successful travel retail companies. In his session, Mr. Pat Kenneday from ARI will showcase how LS Retail with Microsoft Dynamics NAV has been the standard solution for Aer Rianta International's Operations in different regions globally since late 1990s, in Middle East, Russia, India, and North America in localizing the product and adapting the solution to each individual regions unique requirements but also keeping the fundamental ARI Visions, Standards & Operating Processes.
"Hospitality, especially the resort industry, often deploys 20 or more vertical market solutions to service operations, but how many are really needed?" states John Gowers, Director of Information Technology at Blue Mountain. At conneXion, Gowers will show how businesses can look beyond Retail and Food and Beverage and see what LS Retail can do for their operations, and how they can learn how one of Canada's largest resorts uses LS Retail to meet all its needs from French Fries to Heavy Equipment, Attractions, Rentals, Passes and so much more.
"It is imperative that companies make themselves aware of the changes taking place in the industry, and embrace new strategies and product solutions to face the new challenges up ahead," says Mr. Magnus Norddahl, LS Retail CEO. "Together as a team, we will learn how to understand today's customer, as well as prepare for tomorrow's customer".
About LS Retail
LS Retail, headquartered in Reykjavik, Iceland, is a leading developer of software solutions and services serving the retail and hospitality industries, based on the Microsoft Dynamics platform. With more than two decades of experience, LS Retail has been developing software solutions to make the shopping and dining experience a pleasure worldwide. LS Retail solutions help businesses around the world increase revenue, build loyalty, reach new customers and lower their costs of operations. LS Retail solutions have been installed by 2,800 companies with 47,000 stores operating 111,000 POS terminals worldwide.