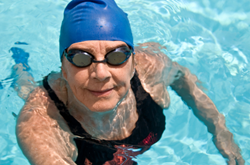 Whether visiting family or being pampered at a resort, travel can be one of the greatest gifts you can give an elderly loved one.
Neenah, WI (PRWEB) April 16, 2014
Traveling with a senior family member can be relaxing and enjoyable with the right tools, according to Lynn Wilson, Founder of The CareGiver Partnership, a national retailer of incontinence products and other home health care supplies.
"Whether visiting family or being pampered at a resort, travel can be one of the greatest gifts you can give an elderly loved one," says Wilson. "Keep it fun and stress-free by planning ahead and stocking up on the right tools."
Wilson recommends the following ways to help a senior travel with normalcy, dignity and ease:

Support stockings use compression to improve circulation and relieve swelling in legs and feet, especially important after sitting for prolonged periods. When driving with someone who's elderly or disabled, allowing time for frequent stops for walk breaks and stretching makes a trip more enjoyable for all.
Elderly skin requires proper cleansing, moisturizing and protection from irritation. When managing incontinence, it's especially important to use skin care products made for maximum comfort and odor control. Sunscreen is essential at every age.
The CarCaddie by Stander mobility products lends a helping hand to seniors getting in and out of vehicles. The portable nylon handle with non-slip grip easily buckles onto a vehicle's upper door frame.
Incontinence products come in a multitude of styles and absorbencies to meet the needs of any traveler. From high-capacity briefs for long trips to premium products that look and feel like regular underwear, incontinence doesn't have to ruin a trip.
Individuals managing urinary or bowel incontinence at any age can swim with confidence. The SoSecure Swim Brief is a machine-washable garment designed to be worn under a swimsuit and comes in sizes to fit adults, teens and even older children.
"For seniors managing incontinence, it's important to monitor fluid intake, plan frequent restroom visits, and plan ahead by stocking up on absorbent undergarments and underpads for beds and seats," Wilson adds.
For more information on any of these products, personalized attention by experienced caregivers, access to more than 500 incontinence products, samples to try before buying and much more, visit The CareGiver Partnership or call 1-800-985-1353.
The CareGiver Partnership is a national direct-to-consumer retailer of home healthcare products for incontinence, diabetes, nutrition support and more. In its eighth year of providing products and services that help caregivers and loved ones maintain personal dignity, the company also offers an online library of more than 1,500 family caregiver resources and personal service by experts in caregiving. Call 1-800-985-1353 or visit online at caregiverpartnership.com.