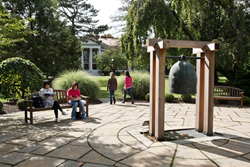 Allentown, Pa. (PRWEB) April 15, 2014
On April 2, a Middle States visiting team, made up of experts in higher education, affirmed Cedar Crest College's re-accreditation, pending a full vote of the Middle States Commission. The Middle States Commission on Higher Education (MSCHE) thoroughly evaluates institutions on their ability to provide a high-quality education based on 14 different standards that include integrity, missions and goals, and educational offerings.
MSCHE is a voluntary, non-governmental, membership association that defines, maintains and promotes educational excellence across institutions with diverse missions, student populations and resources. Once every ten years, accredited colleges and universities are required to undergo an extensive review by the MSCHE to ensure that they continue to stay true to their mission and provide a valuable education for students. Without accreditation, institutions of higher education cannot offer federal financial aid and grants.
In an announcement to the campus community on Wednesday, Chair Cynthia Zane, President of Hilbert College in Hamburg, N.Y. commended Cedar Crest on its mutually respectful environment and said that its commitment to its mission is "innovative and exemplary." She noted the faculty's enthusiasm for the mission and the students repeatedly speaking of "transformation" when describing their experience.
A campus-wide team organized by LaMont Rouse, Ph.D., Executive Director of Assessment, Accreditation and Compliance, Robert A. Wilson, Ph.D., Administrative Director of the Pan-European MFA in Creative Writing and Associate Professor of English, and Provost Elizabeth Meade—under the direction of President Carmen Twillie Ambar—were essential to the re-accreditation process. This team of faculty and staff produced a comprehensive self-study to assess the College's ability to meet the 14 standards, and met with the visiting committee to explain and showcase the many attributes of the College.
"It's been a lengthy process and I am grateful to the entire campus for assisting us in our efforts," said Rouse. "Cedar Crest has made so many positive developments in the past ten years and it's nice to share those with outside constituencies and reaffirm our place as a quality liberal arts institution."
The assessment process began in spring 2012 with six working groups comprised of faculty, staff and students engaged in gathering evidence exemplifying the College's compliance to the MSCHE standards over the past ten years. This data illustrates Cedar Crest's commitment to its mission of women's education with a basis in the liberal arts, the College's adherence to its strategic plan and sound financial practices, the integration of Cedar Crest's adult and graduate program with the overall mission, the ability to move forward in a changing and challenging environment, and the use of data and assessment results to inform decision making.
"Our institution is constantly evolving to provide our students the best education possible," said President Ambar. "I was proud to share our accomplishments with the Middle States team and am thrilled they've recognize those efforts by affirming our re-accreditation."
Located in Allentown, Pa., Cedar Crest College was selected as a "Top Regional College" and "Best Value" in U.S. News and World Report's Best Colleges rankings for 2012, 2013 and 2014. The liberal arts college is committed to the education of men and women leaders in an increasingly global society. Founded in 1867, Cedar Crest currently enrolls approximately 1,400 students—full-time, part-time and graduate—in more than 30 fields of study.