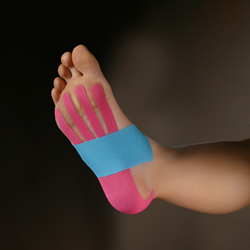 Orthoco has gained success from the incredible technology behind Kinesio Tex Tape.
Wynnewood, PA (PRWEB) April 15, 2014
Orthoco, Inc. released a statement today on the Kinesio Tape Blog, http://www.kinesiotapeblog.com, about the importance and uses of Kinesio Tex Tape. Orthoco is thankful to Dr. Kase who started creating Kinesio Tape and the method of application in 1973, which is now known as the Kinesio Taping Method. The Kinesio taping treatment has changed the lives of millions of people who suffer from muscle pain or injury every day.
Read more about the blog post at http://www.kinesiotapeblog.com.
Orthoco discusses how the Kinesio Taping method works. The application of Kinesio Tex Tape on the skin decreases fluid pressure on the muscles and lessen pain without medication between medical visits. Orthoco reminds its users that Kinesiology is the scientific study of muscle functions or muscle movement, which led Dr. Kase to name his concept: Kinesio Taping.
Orthoco has gained success from the incredible technology behind Kinesio Tex Tape. It is made of latex-free material and replicates the external layer of skin called the epidermis. The tape can be stretched longitudinally and decreases the increased temperature that occurs when there is a large accumulation of fluids on the muscles. Kinesio Tape leaves little to no skin irritation due to the adhesive after the tape is applied. Orthoco says its users like the tape so much because it can be worn while bathing or swimming after a certain period of time and being applied securely.
Discover more about Kinesio Taping products at http://www.orthoco.com/Kinesio_Tape_s/3.htm.
Orthoco always reminds its patients to apply the tape meticulously and to choose the correct widths, lengths and colors since the temperature of the tape can be affected by the color chosen.
Orthoco, Inc. (Established in 1995)
Orthotics, Durable Medical Equipment, Clinical Office Supplies and Equipment.
OrthoCo, Inc. provides clinicians and patients with the finest quality, cost effective medical supplies and equipment available. OrthoCo continues to provide useful products and information assistance to patients, occupational and physical therapists, physicians, chiropractors, and massage therapists.
We understand the important purpose of the products we carry; and the role they play in assisting in patient recovery. OrthoCo strives to provide the best products, because their performance is integral to the successful, timely recuperation of the patient.
OrthoCo, Inc.
1445 City Line Ave, Suite 6B
Wynnewood, PA 19096
Web: http://www.orthoco.com
Toll-free (in U.S.): 1-888-422-4777
Phone Number: 856-795-6900
Fax Number: 856-795-6922