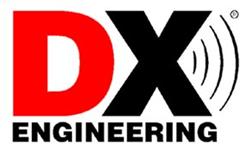 The DX Engineering 4-Square Receive System was amazing on 160".
Tallmadge, OH (PRWEB) April 15, 2014
DX Engineering supplied the 2014 FT5ZM Amsterdam Island DXpedition with its legendary receive equipment. Now that system is available as a practically turn-key receive system that eliminates component-matching guesswork for Amateur Radio enthusiasts.
DX Engineering is proud to support intrepid DXpeditions like the one to Amsterdam Island. For years, DX Engineering has provided the Amateur Radio community with the highest quality telecommunications equipment on the market.
At the heart of this combo is DX Engineering's Receive Four Square Complete Array package, which includes four Active vertical antennas, array relay unit, control console, sequencer unit, compression connectors, tools and 1,000 feet of coaxial cable. This system provides excellent receive capabilities from 100 kHz to 30 MHz, with switching to four directions for significant signal-to-noise enhancements. Compared to long Beverage antennas, this receive array requires far less space and is much easier to maintain. It is perfect for aspiring and established DX and contest operators with average-sized plots.
"The DX Engineering 4-Square Receive System was amazing on 160"," exclaimed Nodir Tursun-Zade EY8MM, an Amsterdam Island DXpedition team member. "With the push of a button I could make Europe dominant or Japan dominant ,and weak signals from North America were suddenly in the clear."
This combo adds DX Engineering's famous RPA-1 Preamp, the best low-noise preamp available. It uses an advanced push-pull design to virtually eliminate harmonic distortion. It covers 300 kHz-35 MHz, and offers the best results for DXing and Contesting.
To combat common-mode noise and unwanted signal saturation, this receive array package includes the RFCC-1 Feedline Current Choke. It delivers incredible noise and signal isolation, while still allowing the signals and AC or DC control voltages to pass through.
See the 2014 FT5ZM Amsterdam Island Dxpedition Receive Array Combo Package at DX Engineering
Check Out the 2014 FT5ZM Amsterdam Island Dxpedition
DX Engineering
http://www.DXEngineering.com
1-800-777-0703