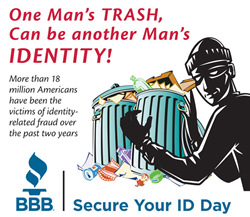 Southfield, MI (PRWEB) April 15, 2014
Better Business Bureau (BBB) Serving Eastern Michigan and the Upper Peninsula is once again partnering with Cintas, Global Electric Electronic Processing (GEEP), GreenPath Debt Solutions and Fox 2 News to host 'Secure Your ID' Day on April 26, 2014 in the BBB Office parking lot in Southfield. Over half of identity theft victims can trace the theft to something that was stolen from their possession, so consumers are urged to attend this community shred and computer recycling event as an important step in protecting their privacy.
Document shredding and electronics recycling are two of the most effective ways to dispose of sensitive records, data, documents and information. However, it is important to know how long to keep certain documents, so prior to attending the event or shredding at home, consumers should consult this records retention schedule for more information.
In addition, electronic devices, even when no longer in use, often retain confidential personal information that can fall into the wrong hands if not disposed correctly; properly destroying this information is imperative to your personal security.
Details for this event:
What: BBB 'Secure Your ID Day' – Document Shredding and Computer Recycling Event
When: Saturday, April 26; 9:00 a.m. – 12:30 p.m. ET Please arrive early – you MUST be in line by 12:30 pm.
Where: BBB Offices; 26777 Central Park Blvd; Southfield, MI 48076
Contact: Lisa Dilg; 248.799.0326 or events(at)easternmichiganbbb(dot)org
Services Provided by 'Secure Your ID' Day Partners:

Cintas will shred up to three boxes or bags of sensitive paper documents at no charge. There will be a $10 per box/bag charged for additional bags/boxes with proceeds supporting the BBB Educational Foundation.
Fox 2 News provides television coverage and a PSA to promote this event and to educate consumers on the need for proper disposal of confidential information.
Global Electric Electronic Processing (GEEP) of Michigan will be on hand to collect computer hard drives, printers, copiers, scanners, desktops, laptops, keyboards, mice, cell phones, DVD and VCR players, etc. free of charge. All shredded paper, destroyed hard drives and electronic equipment from this event will be recycled to protect the environment.
GreenPath Debt Solutions will provide on-site certified counselors to educate about their services and schedule one-on-one counseling sessions.