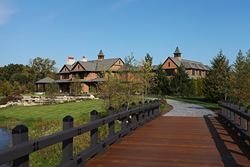 We are proud of our new bridge - which greets us every day as we return home, as a natural extension of our setting - nestled amongst the area's beautiful wildflowers.
(PRWEB) April 15, 2014
Timber Vehicular Bridges, or driveway bridges, are the preferred crossing for Estate homeowners who need to span a river, creek or ravine to gain access to their property. Homeowner Steven Bearden, whose timber driveway bridge was recently completed, states: "York's design of our stunning bridge while meeting every requirement was seamless and demonstrated YBC's capabilities and knowledge of the industry and trade."
Considering water elevation, flood events, wetland boundaries, buffer zones, and scour at the proposed site among many other factors, YBC worked directly with the homeowner to make the entrance to his home spectacular with a custom-designed York Timber Driveway Bridge. With rising costs of steel and concrete, the unmatched aesthetics of a timber bridge became the go-to for this conscious consumer. The choice for timber was influenced by many factors, including cost, strength, longevity, environmental friendliness and of course, aesthetics.
Historically, timber was not considered a durable material. Today, modern treated timber with its innate properties that resist temperature cycles, along with York Timber Protective Systems™ has made wood the clear choice for many. David Trone, President & CEO of Total Wine & More and proud proprietor of a York Timber Driveway Bridge, agrees: "The exceptionally designed residential bridge spanning the entrance to our home has enriched the surrounding landscape. I am pleased at the harmonious balance between the elements of architecture and the beauty of timber, which YBC has protected from the elements by returning to apply the necessary coatings. York made sure our investment was guarded and secure!" It is estimated that with proper maintenance, timber structures can have a lifespan of more than 100 years.
Although the extensive benefits of timber are important, the aesthetic appeal of timber - designed from scratch with YBC's Decero™ philosophy, became the Pièce de Résistance that "sealed the deal" for Robert W. Bianchi, Lake Tahoe resident and homeowner, who concurs: "I can say unequivocally that the bridge has added to the value of the property and to our strong belief and commitment to maintain our family's legacy asset."
Through the talented efforts of expert designers, architects and engineers, York Bridge™ designs and builds timber bridges of any capacity and purpose. With coordinated synergy, the York team believes, without exception, that each and every project is unique. "The meticulous detail used in York Bridge's Decero™ Design of our bridge demonstrated hard work and dedication. From the initial design to the remobilization of their crew to complete our project and its protective treatments, York exhibited excellence in their process. Professionalism at its best!" adds David Trone.