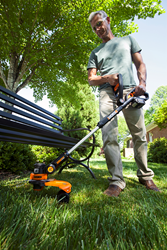 Charlotte, NC (PRWEB) April 15, 2014
Besides functioning as three essential yard tools in one, the 32V GT trimmer eliminates the hassle, mess and ongoing expense of gas-powered yard tools. Imagine no more gas to buy and store; no oil to add; and no spark plugs to change. Ornery pull cords will be a dim memory – just squeeze the trigger and start trimming. Unlike corded electrics, the battery-powered trimmer is not limited by access to electric outlets or tethered to an extension cord.
The 32-volt GT trimmer cuts an impressive 12-in. swath, yet weighs only 6.2 lbs., including the battery. Unlike gas trimmers, the WORX GT features a telescoping shaft that adjusts to the user's most comfortable working position. An adjustable, rubber-coated, front-assist handle also adds comfort and control.
The trimmer's head can be adjusted from 0 to 90° by simply turning a dial at the base of the shaft to the desired angle and locking in place. This feature, which isn't available on other brands, enables the user to trim underneath decks, shrubs and other low clearance areas. Matching the trimming angle to berms, ditches and other uneven terrain also helps prevent gouging of the turf.
The GT trimmer also has an adjustable spacer guard. When extended, the guard helps protect flowers, shrubs, trees, yard furniture and ornaments from damage while trimming.
With a twist of the cutting head, the GT trimmer converts into a wheeled, walk-behind edger. In contrast to free-form edging tools, the GT trimmer incorporates a pair of wheels to help guide the operator along edges for a uniform, professional-looking cut. The guide wheels can be removed when not in use.
Another transformation occurs when the trimmer's wheels are placed in the mini-mower position. This configuration is ideal for cutting of narrow paths of grass between houses or other structures, around bushes and trees, under picnic tables and swings, on berms and other hard-to-reach areas. The mini-mower trims grass consistently at its optimum cutting height of 3 inches.
The trimmer uses 0.065-inch-diameter durable line. An automatic line feed ensures there's plenty of line to get the job done.
There's no fumbling with line changes. The GT trimmer features a quick-change, snap-in spool system, and comes with three free spools of line. When the tool is registered, the owner is eligible to receive free spools for the life of the tool and pays only for postage.
The 32V trimmer has earned the right to bear the Energy Star label. Products with the Energy Star label are considered eco-friendly, help prevent global warming and promote cleaner air.
The WORX 32V Max Lithium GT 2.0 Grass Trimmer/Edger/Mini-mower (WG175, $139.99 includes one 32V Max Lithium battery pack, an Energy Star rated three-hour charger, wall mount accessory and three spools of line. It's available at http://www.worx.com, and is covered by a 3-year limited warranty. Like and follow WORX at https://www.facebook.com/worxus and https://twitter.com/WORXTools.
# # #