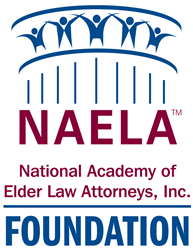 A positive outcome in this case will help Ms. Harrington and other seniors obtain the long-term care coverage they deserve and are entitled to by law...
Washington, DC (PRWEB) April 14, 2014
The NAELA Foundation awarded its first litigation grant of $5,000 to Neighborhood Legal Services, a provider of free civil legal services to low-income and elderly residents of Essex County, Mass. The grant will assist NAELA members John Ford and Judith M. Flynn in their efforts to obligate MassHealth to follow Centers for Medicare & Medicaid Services (CMS) guidance in Harrington v. Dougherty.
Ms. Harrington was a nursing home resident who had made gifts prior to applying to Medicaid for benefits. Later when she applied to Medicaid for long-term care benefits, she was denied because of these gifts, and a two-year penalty of ineligibility was imposed. On a new application after some of the funds were returned, the Medicaid agency adjusted the amount transferred by the amount repaid or "cured," but imposed a second, longer penalty period.
Federal guidance states that a transfer penalty, once imposed, cannot be tolled or interrupted. A partial cure may result in an adjustment of the amount impermissibly transferred, but not an adjustment of the date when the individual was otherwise eligible for benefits. If the litigation is successful, MassHealth will be required to impose only one penalty period for any transfer, and will be forced to undo the imposition of the second penalty. CMS says that a state may opt to change its policy to allow only a full cure of any impermissible transfer, but MassHealth allowed partial cures when this dispute arose.
"The Foundation proudly stands by NAELA members, NAELA Chapters, and other nonprofit organizations advocating for litigation that will benefit seniors and people with disabilities. A positive outcome in this case will help Ms. Harrington and other seniors obtain the long-term care coverage they deserve and are entitled to by law," said NAELA Foundation Chair Vincent J. Russo, CELA, CAP, of Westbury, N.Y. Russo is also a founding NAELA member, Fellow, and Past President.
"As many people are aware, I have made funding litigation advocacy through the NAELA Foundation a top priority of my Presidency. Thanks to the NAELA Foundation and the support of NAELA members, NAELA continues to serve as a voice for seniors, people with disabilities, and their families in critical public policy issues and in particular in the area of litigation advocacy," said NAELA President Howard S. Krooks, CELA, CAP.
About the NAELA Foundation
The mission of the NAELA Foundation is to promote the goals of NAELA and the Elder and Special Needs Law profession through scholarships, advocacy, research, and education. The Foundation Litigation Advocacy Fund's objective is to establish good legal precedent in matters of critical importance to older Americans and people with special needs. Through the Cohn Sisters' Scholarships for Patient Advocacy, the Foundation awards scholarships to NAELA members in financial need so that they can attend national education events.
About NAELA
Members of the National Academy of Elder Law Attorneys (NAELA) are attorneys who are experienced and trained in working with the legal problems of aging Americans and individuals of all ages with disabilities. Established in 1987, NAELA is a non-profit association that assists lawyers, bar organizations, and others. The mission of NAELA is to establish NAELA members as the premier providers of legal advocacy, guidance, and services to enhance the lives of people with special needs and people as they age. NAELA currently has members across the United States, Canada, Australia, and the United Kingdom. For more information, visit NAELA.org.