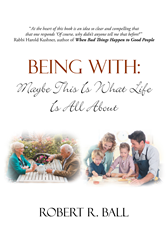 Austin, Texas (PRWEB) April 16, 2014
Authentic personal relationships in life are essential to our well-being.
In Robert R. Ball's new book, "Being With: Maybe This Is What Life Is All About," he reveals the profound meanings contained within the simple phrase "being with."
On the basis of both modern psychology and extensive biblical references, this little phrase points to and expresses the fullest realization of our authentic humanity and our most compelling hopes and dreams.
"In times of crisis and loss, the reality of this need is apparent and inescapable; yet, 'being with' relationships turn out to be equally as important in our day-to-day activities," Ball said. "Modern-day medicine and psychology have made it incontestably clear that authentic personal relationships, truly 'being with,' are central and irreplaceable in the nurturing of human health and healing."
Ball served for 28 years as a Presbyterian pastor and later was the executive director of California's Task Force to Promote Self-Esteem and Personal and Social Responsibility.
Being With: Maybe This Is What Life Is All About
By: Robert R. Ball
ISBN: 978-1491855836
Available at Amazon, Barnes and Noble Booksellers and AuthorHouse online bookstores
About the author
Robert R. Ball has a Bachelor of Arts in history from the University of Kansas, a Master of Divinity from the Princeton Theological Seminary and a Doctor of the Science of Theology from San Francisco Theological Seminary. He is retired and currently resides in Austin, Texas.