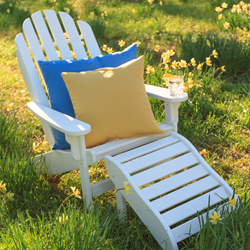 "We wanted to create a chair with a permanent outdoor presence -- something people could rely upon year after year..."- Walter Perkins III, CEO
Greenville, NC (PRWEB) April 15, 2014
It was a fitting birth for a 21st-Century Adirondack Chair: imagined on a computer, shaped with robotic technology. They're called Lifetime Essential Adirondacks, built with a simple goal: record-setting durability, backed by a lifetime warranty.
Kevin Branch designed the new chair as a 3-dimensional model in SolidWorks, from the contours of the slats to the number of bolts and screws.
Their new woodworking machine interprets that information to automate many of the difficult cuts, shaping raw poly lumber into arms, legs, and back slates. When finished, local craftsmen make the refinements too important to automate: shaping joints, smoothing edges. "The machine leaves us with a lot of sharp corners throughout," carpenter James Bowden explained. "We smooth each piece over by hand during assembly."
Designed for Outdoors CEO Walter Perkins III says it's the materials used in these chairs that set them apart: "We wanted to create a chair with a permanent outdoor presence -- something people could rely upon year after year... We went to great lengths to obtain the best poly lumber available."
In a unique move, Perkins opted for marine-grade 316 stainless steel for every piece of the chair's hardware. This steel, used on the railings of ship decks and even surgical implants like pacemakers, has DFO confident their chairs as durable as anything on the market today.
The chairs are exclusively available on Designed for Outdoor's popular outdoor furniture store, AdirondackChairsOnly.com, in white and cedar colorways. They feature a lifetime warranty.
For more information, or to schedule interviews with our CEO, Kevin, or James, please email Mac Clark: mac(at)designedforoutdoors(dot)com, or call (252) 347-0790. We welcome members of the press at our facility.