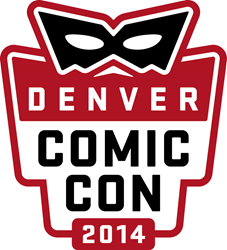 At DCC you can experience the diverse perspectives of some of the best TV and filmmakers in the country. Outside of film school, there's not much else like it between the coasts.
Denver, CO (PRWEB) April 15, 2014
Denver Comic Con and Literary Conference (DCC), a program of Comic Book Classroom (CBC) designed to help promote literacy through pop culture, today announced its expanded "Reel Heroes" programming. The programming will feature dozens of panels and demonstrations from cast and production teams from film and television industries.
"Denver Comic Con is committed to highlighting education programming, and since television and film is such a huge part of our pop culture it's only natural that we're offering so many hours about the theory and practice of those mediums," said Bruce MacIntosh, DCC programming director and CBC chairman. "There are already film festivals where aspiring artists can screen their work—and you can do that at DCC, too. But we're offering something more; here you can experience the diverse perspectives of some of the best TV and filmmakers in the country. Outside of film school, there's not much else like it between the coasts."
DCC's Reel Heroes programming will feature professionals such as:

Alexandre Philippe – Philippe is a writer, director and producer known for "The People vs George Lucas," "The Life and Times of Paul the Psychic Octopus" and "Left."
Greg Weisman – Executive Producer of the newest entry in the animated Star Wars Franchise, Star Wars: Rebels, was also the producer and writer of Young Justice, The Spectacular Spider-Man, and Gargoyles.
Make-Up Professionals – Hollywood make-up artists from the SyFy show "Face Off" communicate their process in panels and hands-on workshops for teens. Also, walkers from "The Walking Dead" will share their experience with attendees.
Mark Grove – Grove is a stuntman, actor, director, producer known for his work on "Gathering of Heroes: Legend of the Seven Swords," "Spin" and "Brother Tied."
Vincent Gonzales – Gonzales is the second assistant director on "The Walking Dead" and "Transformers: Age of Extinction."
WETA– WETA is a five-time Academy Award-winning conceptual design and physical manufacturing of film-ready weapons, armor & chainmail, specialist props, vehicles, specialty costumes, models and miniatures, special makeup and prosthetics and public art and displays.
"We're far more than a film festival, but we are accepting film submissions," said MacIntosh. "DCC encourages local filmmakers to step up their game and show us—and all of the industry professionals at the con—their best work." Film submissions are open online through May 1, 2014, and the filmmakers will be expected to participate in a Q&A about their production.
TV and film professionals with a diverse resume who wish to present or participate in programming about their craft are also encouraged to submit panel suggestions through the Denver Comic Con website Programming page.
For complete Reel Heroes programming as well as the film submission form and guidelines, visit http://www.denvercomiccon.com/dcc/reelheroes.
About Denver Comic Con
Entering its third year, the Denver Comic Con (DCC) is Denver's premiere pop-culture fan experience, covering the worlds of comic books, film, and related media. It is also an extension of and an awareness builder for its parent organization, Comic Book Classroom. For the latest news and information, visit http://www.denvercomiccon.com.
About Comic Book Classroom
Comic Book Classroom (CBC) is a charitable organization that educates through alternative approaches to literacy, learning, and character development. CBC creates programs for underserved students, schools and communities via comic books, graphic novels, and related media. CBC is the organizer and producer for the DCC. http://www.comicbookclassroom.org.
###
Media Contact:
Jason Jansky, DStreet
jjansky (at) dstreetpr (dot) com
(303) 748-3300