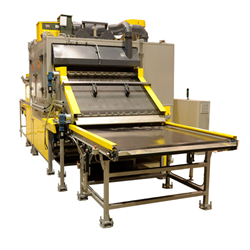 Chattanooga, Tennessee (PRWEB) April 15, 2014
Davron Technologies, Inc. designed and manufactured the DTI-1139, a natural gas and electrically heated indexing conveyor oven designed to preheat carpet and pads for a Tier 1 automotive supplier. Prior to comissioning the DTI-1139, the customer preheated carpet and pads in two separate ovens. The DTI-1139 indexing conveyor oven enables Davron's customer to preheat carpet and pad simultaneously in the same oven so that a complete vehicle set can be preheated in as little as 30 seconds — a 100-percent increase over the previous process.
DTI-1139 indexing conveyor The DTI-1139 features two individual heated chambers and conveying systems. The upper chamber is heated by a natural gas burner and preheats the pad via forced air convection. The lower chamber utilizes infrared panels arranged in individual zones of control to allow for variation of heating across the entire surface of the carpet. Product can be loaded onto the oven conveying systems with an automated pick-and-place system or manually by operators. After carpet and pad are loaded onto the upper and lower conveying systems, they are indexed one position into the heated chambers. Once preheated, the carpet and pad index one more position, exiting the oven simultaneously. They are then matched together to form a preheated vehicle set ready to be press formed as a single unit. The upper (convection) chamber can operate between 300ᴼ and 500ᴼF, while the lower (infrared) chamber can operate between 200ᴼ and 800ᴼF. The DTI-1139 features PLC control and all motion functions are controlled by servo for accuracy and speed.
The usable dimensions of both heated chambers are 13'3" wide x 8'8" long. The interior of the oven is made out of 16-gauge aluminized steel backed by six inches of eight-pound density mineral wool insulation. The exterior is constructed of 16-gauge carbon steel backed by a structural steel frame and finished with high-temperature paint. The lower chamber features a removable drawer that houses the infrared panels. This drawer slides out of the oven to allow access to the IR panels for maintenance. The upper chamber includes two access doors on each side to provide access for maintenance and ensure compliance with NFPA requirements.
Visit http://www.davrontech.com for more information about Davron's indexing conveyor oven capabilities. Or, if you'd like to discuss your own industrial oven project, please call Davron's Vice President, Jimmy Evans, at (888) 263-2673, or fill out Davron's online spec submission form. Davron designed the DTI-1139 indexing conveyor oven based on two criteria provided by the customer: the production rate per hour and the temperature required to preheat. Once the indexing conveyor oven was manufactured, Davron did acceptance testing and training with the customer at Davron headquarters in Chattanooga, Tenn., prior to shipment. Davron then went on site to install the oven at the customer's facility.
About Davron Technologies, Inc.
Davron Technologies, Inc. custom fabricates industrial ovens, providing turnkey design and system integration services to develop thermal processing solutions. Davron is a total industrial oven manufacturer, creating custom industrial ovens and precision process equipment for every industry that requires thermal processing. Each Davron industrial oven is custom built according to customers' unique specifications. As the Provider of Industrial Oven Solutions, Davron offers one of the largest selections of in-house and on-site industrial oven services in the world.