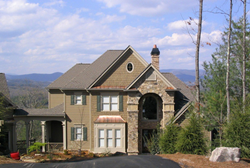 2014 Tour of Homes at Big Canoe
Atlanta, Georgia (PRWEB) April 15, 2014
A tour through a luxury home in the mountains is enough to make any Baby Boomer fantasize about the their plans for retirement. One of the friendliest master-planned communities in the North Georgia mountains is preparing for a big event that will make any retiree want to relocate immediately.
Real Estate Scorecard reminds folks here's the chance to see what it is really like to be a full time resident of Big Canoe homes while supporting a great cause.
From May 2–3, the 2014 Big Canoe Tour of Homes will be welcoming residents and relocating retirees into the doors of four Big Canoe homes. The event is celebrating its 26th anniversary, and is being hosted by the Chapel Women's Guild. Attendees will tour four of the finest homes in four different Big Canoe neighborhoods. Private homeowners volunteered their Big Canoe homes for this event to help raise funds for non-profit organizations and charitable groups in Pickens and Dawson County.
Last year, the Big Canoe Tour of Homes event was a huge success and raised $93,000! Two groups funded from last year's donations were The Good Shepherd Clinic and the Good Samaritan Health and Wellness Center. They both used the proceeds to help needy families pay for dental care, medical supplies, lab fees, prescriptions and patient education. Tickets are $25 and can be purchased at the Big Canoe Chapel website.
Big Canoe offers attendees more entertainment and fun after the tour. Located all around the Big Canoe Chapel, attendees can find treasures at the Marketplace. Check out the list of vendors that will be at the 2014 Big Canoe Tour of Homes Marketplace:
MONA LISA DESIGNS features handmade jewelry inspired from nature and adds a touch of simplistic elegance for everyday style.
JOHN ZHANG'S GARDENER'S POTTERY will show off their unique water fountains and entice anyone with a green thumb to purchase one of their creative containers again this year.
ISEA DESIGNS is the place to buy precious metals, perfect freshwater pearls and luxurious leather pieces.
HAMMER WOODS has a name that says it all. Find the one-of-a-kind piece of furniture or decorative object for a mountain home.
ELF ON A SHELF brings watercolor illustrations to life this year with artistic excellence and creativity.
EARTH N' VINE inspires everyone to become closer to nature with its dried floral arrangements and wreaths.
ASPIRE TO BE will highlight any outfit with a sophisticated necklace, earring set or ring.
LG DESIGN will find a beautiful stone jewelry piece for anyone that wants to spice up their wardrobe.
While it is fun to selfishly explore the Big Canoe hiking trails in North Georgia mountains or play the 27 hole Big Canoe golf course, it is spiritually fulfilling to give back to the local communities in the North Georgia mountains. The friendly master-planned communities throughout Georgia eagerly unite year round to help these organizations and the local community. These selfless acts of kindness attract Baby Boomers to buy Big Canoe homes in the area, but there is even more to learn about the award winning neighborhood.
Originally this area in the North Georgia mountains was occupied by the Cherokee Indians until 1838. More than a century later, Tom Cousins and Charlie Frazier purchased the 8,000 acres land that is now known as Big Canoe. Thirty percent of the community consists of preserved hardwood forests and green space. Three recreational lakes can be found within the Big Canoe borders and more than 100 different species of birds call this place home.
BIG CANOE AMENITIES TO EXPLORE:
24 Hour Manned Gated Entrance
27 Hole Championship Golf Course designed by Joe Lee
9 Hole Creek Course overlooking Lake Sconti
9 Hole Cherokee Course with dramatic elevations
9 Hole Choctaw Course accented by waterfalls and rushing creeks
Lodge-style Golf Clubhouse overlooking Lake Sconti
16,000 Square Foot Fitness Center
Indoor Heated Saline Swimming Pool
Resort-style Outdoor Swimming Pool bordering the Beach
Wildcat Recreation Center with Outdoor Swimming Pool and Kids Pool
Ballfields - Soccer, Baseball, Basketball and Bocce Ball
Ten Lighted Tennis Courts
22 Miles of Paved and Gravel Hiking Trails
Three Private Lakes stocked with Trout, Bass, Bream and Crappie
Community Boat Docks and Marina Store
The Villages Market
Three Dog Parks
In Real Estate Scorecard's opinion, Big Canoe is one of the finest gated mountain communities in Georgia. From the 2014 Big Canoe Homes Tour to the Marketplace vendors, visitors and residents living in Big Canoe homes will be occupied with plenty of fun during the weekend event.
To schedule a tour of Big Canoe, call them directly 866.244.2666.
About Real Estate Scorecard:
Real Estate Scorecard writes unbiased real estate reviews providing in-depth information about popular gated communities in Florida, Georgia, North Carolina, South Carolina and Tennessee, all in an effort to help people discover where to retire in the Southeast.
Website: http://realestatescorecard.com