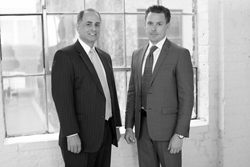 Minneapolis, Minnesota (PRWEB) May 14, 2014
Well known federal white collar crime lawyer Robert Sicoli and trial attorney Ryan Garry merged talents to form Sicoli & Garry, PLLC, a full service criminal defense law firm. Along with attorney Elizabeth Duel, the firm offers a comprehensive service agency designed to resolve their clients' problems whether it be crisis management, private investigation, or criminal complaints and federal indictments. All of the attorneys at Sicoli & Garry, PLLC are licensed to practice law in both the State of Minnesota and the Federal District of Minnesota.
The firm's founding partners and seasoned criminal defense attorneys Robert Sicoli and Ryan Garry are included in the small and exclusive group of attorneys recognized by the Minnesota State Bar Association as "Criminal Law Specialists," a certification held by less than 1% of all criminal defense attorneys in Minnesota. In addition, both Bob and Ryan have been awarded the elite status of Superlawyers, which recognizes the top 5% of all attorneys in Minnesota.
The vast majority of the firm's clients are referred from other lawyers, prosecutors who have litigated against them in criminal trials, civil attorneys, and former clients. The downtown Minneapolis criminal defense firm frequently represents lawyers, doctors, police officers, teachers, professional athletes, corporate executives, and other professionals accused of crimes. They are often sought out on high-profile federal cases where the stakes are high.