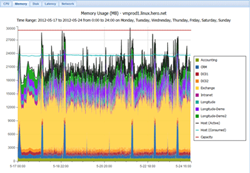 We wanted to be able to monitor VMware along with our other applications and networks… Longitude has made that possible and, even better, was truly an out-of-the-box solution for us.
Braintree, MA (PRWEB) April 22, 2014
Heroix, developer of application performance and network monitoring software, today reported that its sales of the Heroix Longitude VMware® virtualization solution jumped 36% from the first quarter of 2013 to Q1, 2014.
The company reported the results for its Longitude's VMware Edition, which monitors and reports on the health of the entire VMware environment. The technology enables VMware users to maintain high service levels and make decisions about provisioning, redeploying or retiring virtual machines (VMs) and the associated virtual infrastructure.
During the past year, a growing number of Heroix customers that selected the Enterprise Edition of Longitude also opted for VMware monitoring, which resulted in the significant sales boost of the VMware Edition.
"We wanted to be able to monitor VMware along with our other applications and networks, so that we weren't duplicating efforts or expense," explained Mike Cook, Systems Administrator, LMN Architects. "Longitude has made that possible and, even better, was truly an out-of-the-box solution for us. It was so easy to start monitoring very quickly."
"We recognize that companies want a single solution that monitors and reports on VMware along with all the other associated IT infrastructure components. They are looking for a single integrated technology that can provide centralized monitoring and reporting of multiple environments," explained Rick Lane, President, Heroix. "With our Longitude solutions, there's no need for teams to learn multiple monitoring technologies in order to address their VMware monitoring requirements in addition to the monitoring of the complete IT infrastructure."
Longitude provides several advantages over other options for VMware monitoring. It is easy-to-deploy and easy-to use, and monitors multiple operating systems, web servers, databases, messaging, networks, and infrastructure. Longitude provides a proven, affordable solution for companies, whether for single departmental use or across the entire enterprise.
"We expect to see the sales of Longitude VMware Edition continue to grow. In addition to enterprises wanting a single pane of glass for all monitoring activities, many also want an independent and impartial view of their application and the associated IT infrastructure performance and availability," said Dick Levin, Vice President of Development, Heroix.
A key feature for many Longitude users is the capacity planning capability of the VMware Edition. Longitude uses actual historical data in its capacity planner, which is a more accurate way to predict future needs for VMs, hosts, and storage than the mathematical averaging methodology used by most other software. In addition, Longitude's unique multiplier approach lets users work with historical data and change resource load attributes so that they can play out "What if" scenarios. Longitude eliminates the guesswork for predicting the need for virtual resources. It is the most precise way to conduct capacity planning and helps companies reduce overprovisioning, reuse unneeded VMs and recycle VMs and the associated resources to where they are most needed.
This approach significantly diminishes VM sprawl, which is costly for companies when servers are added unnecessarily because need estimates weren't correct. Today, most companies engaged in virtualization initiatives need to demonstrate that their infrastructure is being used effectively. Managers can prepare and adhere to budgets better with the more accurate information provided by Longitude. In addition, the software will report on when overprovisioning has occurred, so that adjustments can be made quickly.
All editions of Longitude are also available on tablets and smartphones, providing on-the-go access to information about critical applications, servers, networks, and VMware 24 x 7. Heroix designed its own mobile support capability specifically for Longitude, insuring that it avoids common third-party app problems such as instability or poor coding.
For more information and resources on application and network monitoring, visit Heroix's online resource library.
Pricing and Availability
Longitude 8.2 is available now. Please visit Heroix or call 800-229-6500 or 781-848-1701. Heroix also offers a 14 day free trial of all Longitude Editions. Pricing begins at $399.
About Heroix
Heroix has provided best-of-breed application performance and network monitoring solutions for 25 years to companies like Honeywell, Kaiser Permanente, Motorola, Tembec and Young Broadcasting. Heroix Longitude is the fastest, easiest-to-use, and most affordable application and network monitoring software available today. This proven, self-service solution optimizes the availability and performance of applications, databases, systems, IT infrastructure and VMware® running across multiple platforms.
Heroix, Heroix Longitude, RoboMon, Heroix eQ, and their corresponding logos are registered trademarks of Heroix. All other company and product names mentioned are used only for identification purposes and may be trademarks or registered trademarks of their respective companies.