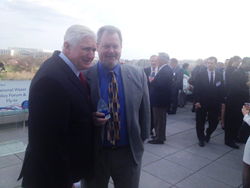 Alexandria, VA (PRWEB) April 15, 2014
In celebration of its 25th anniversary, the Water Environment Research Foundation (WERF) recently recognized Virginia Representative Jim Moran for his many years of support. WERF coordinates unbiased, scientifically rigorous water quality research among teams of federal, state, and local agencies. Although federal spending on wastewater infrastructure has significantly declined, Rep. Moran has continued to support WERF.
For many years WERF received federal funding through Appropriation Subcommittees on which he served. Those funds have been leveraged at a rate of 3:1 or better with support from local wastewater treatment facilities. As he is retiring, Rep. Moran has asked Congress to redouble its efforts to support water quality research. WERF's efforts have improved human and ecological health, fostered new water quality management processes, and spear-headed the development of new technologies.
In the April 8, 2014 Congressional Record, Rep. Moran recognized WERF as a "highly respected national center of water quality research. Its research has helped create many new tools for restoring water quality and informed better state and federal regulation, saving the U.S. water quality community as much as $2 billion over the last twenty years."
"WERF is very grateful for the support Rep. Moran has shown us," emphasized WERF Counsel Randy Benn. "We wish him well in his retirement."
###
The Water Environment Research Foundation, a nonprofit organization formed in 1989, is America's leading independent scientific research organization dedicated to wastewater and stormwater issues.