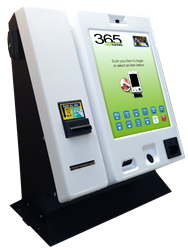 We feel that it's a game changer.
Troy, MI (PRWEB) April 15, 2014
Nearly 1 year after introducing their Gen3 Kiosk to MicroMarket operators across the country, industry leader 365 Retail Markets is proud to announce the unveiling of their newest Kiosk – the Gen3c. This is the fourth installment of their product line and highlights the industry shift towards smaller, more mobile hardware while maintaining a robust set of features.
"We feel that it's a game changer," 365 Retail Markets' CEO Joe Hessling said of the new Kiosk. "Over the past year, our customers have pushed us to pack all of our features into a smaller, more mobile Kiosk. With the Gen3c, we're doing just that – giving our customers our most versatile model to date."
The Gen3c comes equipped with the most recent software update which includes bilingual capabilities, an enhanced User Portal, Email / SMS receipt options, new reporting and an updated Kiosk interface as some of the many new features. What makes the Gen3c stand apart from its predecessor, however, is the ability to accept cash and print out paper receipts through a detachable side module. While these features have been included in previous Kiosk models, this is the first time they are being deployed in such a small, versatile package.
"The only success we will have is the success that we share with our operators," Matt Caston, Chief Strategy Officer, said of the unveiling. "Listening to what they are looking for and tailoring a product to meet their needs is at the core of our business model. We're excited for the new opportunities that the Gen3c will provide for operators and how it will help to grow 365 as a company – providing the ideal environment for the next iteration of our MicroMarket technology."
The mission of 365 Retail Markets is to provide MicroMarket technology that is secure, scalable and integrated. The Gen3c is an extension of their core values as a company – delivering award-winning, all-in-one technology within a sleek package that maintains rigid security compliance and can be seamlessly deployed into any location.
About 365 Retail Markets
365 Retail Markets, an expanding self-checkout technology company based in Troy, Michigan, offers the best in class platform for vending, foodservice, and hospitality. Its proprietary, 365 MicroMarket, is a turnkey unmanned market that allows customers to increase sales, improve the customer experience, and increase profits, while decreasing operating costs. 365 Retail Markets has been pioneering innovation in the vending industry for over 5 years and continues to revolutionize the market with superior technology and ultimate flexibility in customization and branding.
For more information about 365 Retail Markets, visit http://www.365retailmarkets.com. You can also join 365 Retail Markets on Facebook, Twitter, Google+, YouTube and LinkedIn.
Watch the video for the new Gen3c Kiosk here: https://www.youtube.com/watch?v=8fE2O0RjUOY.