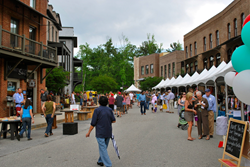 May Day at Serenbe is one of my favorite annual events and a great way to spend an afternoon outdoors.
Chattahoochee Hills, GA (PRWEB) April 15, 2014
For its ninth year running, the farm-to-table community, Serenbe, is transforming the community into a spring May Day celebration. 2014 partners include Southern Living, Bosch, UGA's Flavor of Georgia, Bill Kaelin, ScoutMob Shoppe and Hand-Picked. May Day guests will enjoy culinary and artisan festivities set among the breath-taking scenery of nature. Over thirty different vendors, food trucks, artists, strolling performers, music from Cicada Rhythm and hand-made and home-grown goods from all over the SE. Notable artisans and vendors include Janke Studios, Homestead, King of Pops, The Hil restaurant, Happy Belly Truck, Bamboo Juice, Olive Style and the Serenbe Playhouse.
Expand your mind and palate at a Southern Living cooking demonstration and tastings from ABC and Bamboo Juice. For those looking to get a hefty dose of Mother Nature take to the air in a hot-air balloon. And families can enjoy an expanded children's area with pony rides, bouncy slides, face painting, a dunk tank and other May Day activities. And of course, we will even have a bona fide May Pole dance and celebration. Guests come back year after year to enjoy the food trucks and Sweetwater Brewing. Food Trucks include Grazing Here, Happy Belly Truck along with Yolis Street Food, Yumbii Food Truck, King of Pops, Philly Connection, TCBY Frozen Yogurt and The Pup Truck.
All ages are welcome and admission to May Day is a $5 donation per person that supports the Serenbe Art Farm. The Art Farm is a growing artist and residency complex at Serenbe that will house and support visiting and permanent artists aligned with the Serenbe Institute, Serenbe Playhouse, Artist in Residency program and Film Society.
Serenbe is excited to partner with ScoutMob Hand-Picked to offer exclusive VIP access tickets to those ages 21+ to the Hand-Picked Tasting Tent – where over a dozen of ScoutMob's dearest Atlanta vendors will be offering up bites and sips at the ready. Hand-Picked Tasting Tent participating restaurants include: DBA BBQ, Cooks Hall, Glenn's Kitchen, Article 14, Top Flr, The Lawrence, Trace, Ratio Bake Shop, Just Add Honey Tea, Three Taverns Beer, Frozen Pints, Ocean Market, STK, Buttermilk Kitchen, Taverna Fiorentina, Lettuce Buy Local and LolaBelle Donuts. VIP Admission is $35, tickets available exclusively at Hand-Picked.
Serenbe is located just outside of Atlanta, only 35 miles from Midtown in southwest Fulton County in the City of Chattahoochee Hills, GA. Parking and access to May Day will be off Hutcheson Ferry Road near the Inn at Serenbe, 10950 Hutcheson Ferry Road, follow the event signage for parking and walk to the Welcome Tent in the Serenbe Wildflower Meadow.
Complete list of 9th Annual May Day Vendors: JuneBug, Shay's Soaps, Raggs Designs, Vella Mode, Yours Is the Earth, Redbeard Brew Bars, Olive Style, Malvi, Emerald August, Brown Paper Bat Soaps, Homestead HJ Pags + Simply Unique Finds, The Lawrence Restaurant, Bamboo Juice, Stamey Custom Construction, Write On! Design, Aster + Bay, Willaby Cloting, Southern Roots Nursery, Flower Crown Society, Statement Jewelry, Statuary 2, The Toon Guy, FlyWendyFly, Smile Booth, Cicada Rhythm, The Hil restaurant, The Farmhouse restaurant, Serenbe Playhouse, The Art Farm and Serenbe Artist in Residence program, Sweetwater Brewing, Grazing Here, Happy Belly Truck, Yolis Street Food, Yumbii Food Truck, King of Pops, Philly Connection, TCBY Frozen Yogurt and The Pup Truck.