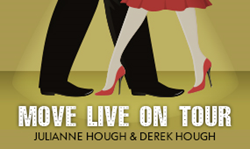 South Windsor, CT (PRWEB) April 15, 2014
Performing siblings Julianne and Derek Hough are teaming up for a live dance and music show called Move Live on Tour, and it will visit more than 40 cities across North America this summer. The tour kicks off May 28 in Park City, Kansas and concludes on July 26 in Los Angeles.
Both Hough siblings made names for themselves as professional dancers on the hit show "Dancing with the Stars." Julianne has also been seen in films such as Burlesque and Rock of Ages. Derek starred in the London theatrical production of Footloose. Now, they are bringing their dancing and musical talents together for a huge, interactive show their fans will not want to miss.
Tickets for Move Live on Tour have been proving extremely popular. The tour unseated Wicked the Musical as the second most popular theater event on TicketLiquidator.com*, still beaten only by The Book of Mormon.
*Data are taken from Ticket Liquidator's ticket exchange as of 4/14/14 and are subject to change. All trademarks remain property of their respective owners. TicketLiquidator.com does not claim any right or ownership to any of the names contained in this release. These names are strictly used for descriptive purposes and do not imply an endorsement or partnership.
###
Ticket Liquidator is an online marketplace for tickets to live entertainment events. Since 2003, Ticket Liquidator has provided a selection of event seating inventory which now exceeds $1 Billion. With 7-day Customer Service, PCI and SSL security certifications and a Worry-Free 125% Guarantee and Safety Net Program, Ticket Liquidator ensures that all purchases are made with confidence. Ticket Liquidator is in no way associated with any of the artists or venues listed.