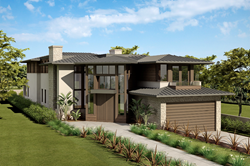 We are very excited for our latest Idea House project and to launch our first home and garden tour, which will give visitors exclusive access to beachside properties that exemplify the Sunset lifestyle.
MENLO PARK and LOS ANGELES, CA (PRWEB) April 15, 2014
Sunset, the leading lifestyle brand in the West, announced today that it has selected Manhattan Beach as the location for its 2014 Idea House, its first in Los Angeles.
Sunset and its expert editors, along with a team of design and construction partners, will create the ultimate modern beach house that exemplifies the sophisticated and eclectic modern aesthetic of this Southern California beach town. Additionally, Sunset will host its first Sunset Manhattan Beach Home & Garden Tour, a weekend tour of distinctive properties located throughout the unique neighborhoods of Manhattan Beach.
The 2014 Idea House, which will be featured in the November 2014 issue of Sunset magazine, will open August 1 and will be available to tour Friday-Sunday through September 7th. The cost to tour the Idea House is $18. The cost of the Sunset Manhattan Beach Home & Garden Tour, which will be held August 16-17, is $80.
Since 1998, Sunset magazine has built Idea Houses and Dream Remodels throughout the West that bring the pages of the magazine to life and showcase the latest innovations in architecture, construction, design, and sustainable building and gardening practices.
"Sunset's version of the modern beach house is timeless, blended with modern architectural detail, simplicity, and coastal inspiration," said Sunset Editor-in-Chief Peggy Northrop. "Manhattan Beach is the perfect location to develop this vision and to capture the excitement that is buzzing around the Los Angeles design world. We are very excited for our latest Idea House project and to launch our first home and garden tour, which will give visitors exclusive access to beachside properties that exemplify the Sunset lifestyle."
The 4,500-square-foot Idea House is being designed by LA's DISC Interiors, known for warm modern spaces and layered, textural rooms that reflect an effortless California vibe. Some of their plans for the voluminous, light-filled spaces include sustainably-crafted furnishings, wide-plank white oak floors, black-stained kitchen cabinetry, soapstone kitchen countertops, and handmade graphic concrete tiles for the spa-like master bathroom suite. Featuring four bedrooms and five and a half bathrooms, the two-story home will reflect a style that is both comfortable and effortlessly chic. The heart of the home—the adjoining kitchen and great room—will feature large expanses of retractable glass doors that will allow the exterior to seamlessly merge with the interior, making it perfect for California entertaining, or simply relaxing with family.
According to Krista Schrock, co-founder of DISC Interiors, "Seeking inspiration from the Pacific Ocean and California coastline, we were immediately drawn to the beauty of natural materials, calm color palettes and a blend of hard and soft materials. These are the elements that will be the foundation of the design for the Idea House."
The Idea House's landscape will feature drought-tolerant plantings from the Sunset Western Garden Collection and ideas for creating a water-wise garden. The landscape will also include a pool with spa, modern conversation pit, edible garden, no-mow lawn, fruit orchard, and an outdoor kitchen. The backyard is designed for the casual SoCal beach lifestyle, where taking the party outside can happen almost any day of the year.
In addition to enlisting DISC Interiors as the LA Idea House's interior designers, Sunset pulled together a team of experts from throughout the Los Angeles South Bay area to help bring the "modern beach home" vision to life. The team includes Tomaro Design Group as the architects, Mike Davis Custom Homes to build the house, and Masterpeace Gardens as the landscape designers. DISC Interiors will also be working with local artisans and makers to help express the true essence of the Los Angeles-inspired design.
Sponsors of the Sunset Idea Houses include AZEK Building Products, Cost Plus World Market, Eldorado Stone, Kohler, Orchard Supply Hardware, Southern California Gas Company, Smith+Noble, Subaru, Sunbrella, Sunset Western Garden Collection, and Torani.
Stay up-to-date on the Sunset Idea House and Sunset Home & Garden Tour by liking Sunset on Facebook (http://www.facebook.com/sunsetmagazine), and following @SunsetMag on Twitter, Instagram and Pinterest #sunsetideahouse. In June, the Sunset Idea House website will launch with more information.
About Sunset
Sunset (sunset.com) is the leading lifestyle brand in the West. Through magazines and books, events and experiences, and digital and social media, Sunset covers the West's best flavors, destinations, design trends, and innovations. Sunset engages and inspires an audience of over five million educated, active and affluent consumers every month through its five regional print editions—Pacific Northwest, Northern California, Southern California, Southwest and Mountain—as well as via all tablet devices and its website. In addition to its print and digital publication, Sunset showcases the region's unique lifestyle and noteworthy destinations through its flagship events, established home programs, licensing partners, books and International Wine Competition. Sunset is part of the Time Inc. Lifestyle Group.