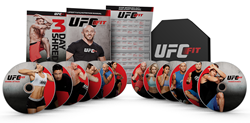 Mike Dolce has been named "one of the top coaches in mixed martial arts" by Sports Illustrated
Seattle, WA (PRWEB) April 15, 2014
The UFC Fit program is designed for both men and women; it can help achieve full body transformation through targeted, intense workouts and a specialized nutrition plan. The program was developed by UFC coach Mike Dolce and is based on the routines fighters use to train for the championships. Mike Dolce has been named "one of the top coaches in mixed martial arts" by Sports Illustrated, has trained many professional athletes to reach their optimal fitness level and has inspired many people by his personal accomplishment of shedding 100 lbs. of weight.
The program has demonstrated impressive weight loss and fitness results and is designed as a 12-week plan, although first results are visible after just 3 weeks. Users of the UFC Fit Program show overall improvement in energy and activity levels, better emotional state and satisfaction with the results. It is a truly transformational fitness program that changes people's lives.
Quote from UFC fit:
Online shoppers can now purchase the UFC Fit training program on several online marketplaces, such as Amazon and Ebay. They will receive 12 workout DVDs, a 12-week workout tracker, a 132-page lifestyle and nutrition manual, and some additional bonus items. All orders are fulfilled by DNA Response using a unified logistics system. DNA does not charge clients for marketplaces marketing and fulfilment services; instead, DNA shares the revenue generated through online sales.
"It is a great privilege to partner with UFC Fit, a company that offers incredible opportunity for ordinary people to completely transform their lives and reach their maximum fitness, health and life satisfaction potential. Mike Dolce himself and testimonials of people who have used the program are truly inspirational", says Ranjit Mulgaonkar, President and CEO of DNA Response, Inc.
About DNA Response, Inc.
As an eCommerce channel partner founded by former Amazonians, DNA Response collaborates with leading brands to provide turn-key sales solutions and fulfillment services, enabling product marketers to engage over 200 million potential customers in the world's largest marketplaces. Backed by proprietary marketplace optimization and data intelligence technologies, DNA provides enhanced visibility and insight into marketplace performance, maximizes product revenue and margins, and protects brand presence and channel pricing.
About UFC FIT™
UFC FIT is the first in-home training and nutrition program from the Ultimate Fighting Championship®, the world leader in the sport of mixed martial arts, in partnership with New Evolution Ventures™ (NeV), developers of many of the world's most successful fitness brands. UFC FIT continues the expansion of UFC and NeV's partnership into the fitness and lifestyle category, which began in 2008 with the creation of UFC GYM®.