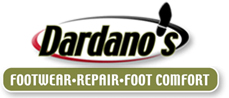 Denver, CO (PRWEB) April 16, 2014
Longtime Denver footwear retailer Dardano's has added Certified Pedorthist Kimberly Leskovisek to its Foot Comfort Center. Lescovisek joins pedorthist Darin Robinson to give Dardano's two full-time certified pedorthists to serve a growing number of customers who seek customized fittings for athletic, corrective, and everyday footwear.
Lescovisek received her pedorthic certification in 2010 after completing course work at the Robert M. Palmer Institute of Biomechanics in Indiana and 1,000 hours of clinical experience.
Lescovisek's career path began in 2006 in Urbana, Illinois when she answered an ad for a shoe salesperson at a local shoe store. "My husband worked at another local shoe store at the time, and I thought it would be funny if we both worked in shoe sales," she says. When she started assisting the pedorthists and orthotist at the store, she decided she wanted it to be her career, too.
"I've had foot issues all my life," Lescovisek says, "so I have a personal understanding of the inconveniences of foot pain and the effects it can have on everyday life. When I saw that there was a way for me to build a career around helping others get relief, I knew that was what I wanted to do."
Feet are complex mechanical structures connected intricately to the legs by the ankle joint. Each foot and ankle is built from 26 bones connected by 33 joints held together and operated by over 100 muscles, tendons, and ligaments. Because of their location and the jobs they do, feet and ankles are subject to more routine injury and illness than any other structural part of the body. Besides direct injury, foot problems can be caused by improperly-fitting footwear that can throw bones, joints, and muscles out of natural alignment causing pain and injury not just to the feet, but to legs, hips, and the spine as well.
Pedorthists are professionals who have completed extensive training in the design, manufacture, modification and fit of footwear, shoes and foot orthoses to alleviate problems caused by disease, overuse, congenital condition or injury. They are trained in the assessment of lower limb anatomy and biomechanics and the appropriate use of corrective footwear including shoes and shoe modifications, orthotics and other pedorthic devices. A pedorthist selects and modifies footwear and other prosthetic or orthotic devices to help people maintain or regain as much mobility as possible.
"As a Board Certified Pedorthist, I provide patients with basic biomechanical foot assessments and gait analysis," Lescovisek says. "I use a personal exam to understand how a patient's individual body functions. The exam allows me to assist in balancing the body through proper footwear, whether minimal or extensive." Sometimes that may be as simple as selecting a particular style of footwear that fits properly, or it could involve orthotic inserts or even custom-made shoes, both of which are made on site by Dardano's. They also fill prescriptions from podiatrists and therapists for customized footwear.
Dardano's traces its history back to Frank Dardano's tiny shoe repair shop in downtown Denver over 75 years ago. Today, the third generation of the family continues Frank's old-world tradition of craftsmanship with 21st century conveniences including an online store at http://www.dardanos.com. This legacy of quality and innovation has helped Dardano's grow into one of the country's largest independent sellers of fine footwear and accessories.
Kimberly Lescovisek and her colleague Darin Robinson are available to answer questions and schedule appointments at 303.692.9355 or toll-free at 877-DARDANO. Email inquiries are also welcome at info(at)dardanos(dot)com.
For more information, contact:
Brittany Dardano
303.692.9355
1.877.DARDANO
Email: info(at)dardanos(dot)com
http://www.dardanos.com