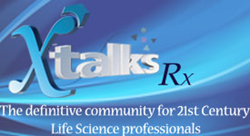 Toronto, Canada (PRWEB) April 18, 2014
The study of phosphoproteomics represents a major leap forward in drug target and mode of action analysis: Deregulated protein kinase signaling occurs in many human diseases such as cancer, inflammatory disorders or neurodegenerative disease. Knowledge about cellular modes of action is of key importance for the successful development of kinase-selective drugs. Evotec's phosphoproteomics technology PhosphoScout® provides an unbiased approach to investigate molecular mechanisms of kinase inhibition, as it allows the reliable measurement of more than 10,000 phosphorylation sites in living cells, animal models and patient samples.
Dr. Henrik Daub, Senior Vice President of Science & Technology at Evotec will provide insight on how PhosphoScout® technology utilizes quantitative mass spectrometry and bioinformatics to investigate and signaling pathways and mechanisms on a global scale. Typical applications are:

Applying phosphoproteomics studies for the selection of drug candidates with maximal on- and minimal off-target activity in cellular conditions, either as single agents or in combination with other drugs
Monitoring phosphoproteome regulation in different biological models to shed light on factors underlying differential biological activity of kinase-selective drugs
Using phosphoproteomics studies for the identification of pharmacodynamic biomarkers for therapeutic kinase inhibition
For more information on this webinar or to register, visit: Quantitative Phosphoproteomics to Support the Discovery and Development of Kinase-selective Drugs
Xtalks, powered by Honeycomb Worldwide Inc., is a leading provider of educational webinars to the global Life Sciences community. Every year thousands of industry practitioners (from pharmaceutical & biotech companies, private & academic research institutions, healthcare centers, etc.) turn to Xtalks for access to quality content. Xtalks helps Life Science professionals stay current with industry developments, trends and regulations. Xtalks webinars also provide perspectives on key issues from top industry thought leaders and service providers.
To learn more about Xtalks visit http://xtalks.com
For information about hosting a webinar visit http://xtalks.com/sponsorship.ashx
Contact:
Michelle Tran
Tel: +1 (416) 977-6555 ext 284
Email: mtran(at)xtalks(dot)com