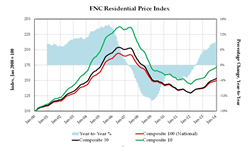 The index's year-over-year acceleration reached 9.1%, bouncing back to levels attained at the peak of the housing market in June 2006.
Oxford, MS (PRWEB) April 15, 2014
The latest FNC Residential Price Index™ (RPI) shows U.S. home prices increased again in February as sales of non-distressed homes continue to rise and regain market share. The index, constructed to gauge the price movement among normal home sales exclusive of distressed properties, indicates much of the nation's underlying home value shows solid growth as dwindling REO sales fall to their lowest levels since 2007.
In February, the index's year-over-year acceleration reached 9.1%, bouncing back to levels attained at the peak of the housing market in June 2006. The momentum is expected to pick up as Spring home buying is getting into full swing, even absorbing the slack caused by the bad weather that affected much of the country. Mortgage rates remain low and even fell slightly in recent weeks. The for-sale markets in most of the country are up with rising listing activities and fewer price markdowns. Average asking price rose 5.0% in March, reaching a 20-month high. Meanwhile, the asking-price discount dropped to 2.6% and an advance April estimate shows further declining.
FNC's RPI is the mortgage industry's first hedonic price index built on a comprehensive database that blends public records of residential sales prices with real-time appraisals of property and neighborhood attributes. As a gauge of underlying home values, the RPI excludes final sales of REO and foreclosed homes, which are frequently sold with large price discounts, likely reflecting poor property conditions.
Based on recorded sales of non-distressed properties (existing and new homes) in the 100 largest metropolitan areas, the FNC national composite index shows that, in February, home prices rose at a seasonally unadjusted rate of 0.5%.
The two narrower indices (30- and 10-MSA composites) show faster monthly price appreciation in the nation's top housing markets, up 0.7% and 0.8% respectively. The two composites' year-over-year trends also show more rapid price accelerations and the highest annual rate of growth since June 2006. Price momentum is picking up in most of the country.
Sacramento and Chicago show the largest one-month increase at 2.9% each. While the significant rebound captured for Sacramento is likely due to an unexpectedly large decline in January which consequently inflates February's gain, home prices in Chicago are gathering momentum with February's impressive gain following a strong January performance (1.5%). Home prices in Seattle, Orlando, Phoenix, San Francisco, Riverside (CA), Las Vegas, Houston, Los Angeles, and San Diego continue to record solid improvement more than two years into the recovery.
Prices continue to decline in six markets, including Baltimore (0.9%), Denver (0.3%), Minneapolis (0.4%), Portland-OR (0.9%), St. Louis (0.4%), and Washington D.C (0.7%). While being only one of the few that recovered from the housing crash with positive peak-to-date price appreciation, the recovery in Denver seems to have stalled as prices have weakened for six consecutive months. Similarly, in St. Louis, after persistent declines in the last six months, the year-over-year growth has turned negative. Negative year-over-year price appreciation is also seen in Cleveland, which has so far trailed behind in the ongoing recovery.