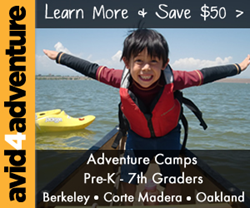 "Our mission is to help empower kids to choose healthy lifestyles through age-appropriate adventure skills" -Dave Secunda, Founder & President, Avid4 Adventure
Boulder, CO (PRWEB) April 15, 2014
Dave Secunda, former president of the Outdoor Industry Association, named 'CEO of the Year' in 2000 and recipient of the Jim Rennee Outdoor Industry Leadership Award, is the Founder & President of Avid4 Adventure – a summer camp offering authentic outdoor adventures that include Rock Climbing, Mountain Biking, Kayaking, Stand Up Paddleboarding and much more! Avid4 Adventure day camps for Pre K – 7th graders build outdoor skills, teamwork and self-confidence through adventure activities. In partnership with Outside Magazine, Avid4 Adventure offers the Outside Kids Scholarship Program – because all kids should be able to enjoy a life outdoors!
"Avid4 Adventure offers authentic adventure camps different from other outdoor camps. Our highly skilled and educated staff, our unique adventure activities such as rock climbing, kayaking and mountain biking, and our focus on outdoor confidence building for young kids is what sets us apart," says Dave Secunda, Founder & President of Avid4 Adventure. "Our mission is to help empower kids to choose healthy lifestyles through age-appropriate adventure skills and we're excited to now bring these camps to families in the East Bay communities of Berkeley and Oakland."
Avid4 Adventure boasts experienced staff who are all 21+ years old, and camps that are designed to build upon one another that instill a solid foundation of outdoor abilities, self-awareness and communication skills that last a lifetime. Camp partners include outdoor industry leaders such as Outside Magazine, Black Diamond, Specialized Bikes, Clif Kid & many others.
During the Grand Opening Celebration families can save $50 on registration in Berkeley and Oakland locations. This limited time offer will expire soon – save $50 today! *Corte Madera completely sold out in 2013.
Weekly camp sessions run June 16th–August 15th, Monday–Friday, 8:45 AM–2:30 PM. Extended Care available 8:00 AM – 5:30PM.
East Bay: Berkeley (Martin Luther King Jr Elementary School), Oakland (Joaquin Miller Elementary School)
Marin: Corte Madera (Marin Country Day School)
ADDITIONAL INFORMATION ABOUT AVID4 ADVENTURE
For over 10 years, Avid4 Adventure has been engaging children in active, outdoor lifestyles by offering multi-sport, adventure camps in Colorado and has recently expanded into the Bay Area with camps in Corte Madera, Berkeley and Oakland, California. Camps are fun and empowering with activities that include Rock Climbing, Mountain Biking, Hiking, Kayaking & much more! American Camp Association Accredited.
Contact:
To learn more about Avid4 Adventure, please contact
Avid4 Adventure
PO Box 287
Boulder, CO 80304
P: 800.977.9873
E: info(at)avid4(dot)com