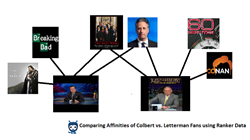 Stephen Colbert is a bridge between the existing Late Show fans and a new set of younger viewers who watch shows like Breaking Bad and Game of Thrones, though in the process, he may leave behind
Los Angeles, CA (PRWEB) April 16, 2014
In 2015, Stephen Colbert will depart from his home at Comedy Central where he's amassed a huge cult following and head over to the mainstream late show game, replacing David Letterman.
CBS is surely hoping he'll bring all those young fans, too.
Mention "The Late Show" and you may have already lost a younger demographic of TV viewers whose watching habits haven't been tethered to a specific time or place. TiVo, you'll remember, was first introduced in 1999, when today's demographic of 18-34 year olds were merely young children. The idea of watching the same TV program at the same time every night is not something that Millennials tend to do.
And while David Letterman's show is available to watch online, many young viewers associate the style and tone of the Late Show with their parent's generation. Millennials, it turns out, watch TV, just not necessarily from networks and they like it served two ways: as part of a gluttonous binge (aka that time you didn't go outside for a whole weekend and watched 2 entire seasons of House of Cards) or in tiny, viral pieces (aka short-form videos) that are easy to watch at work and share on social media. Jimmy Fallon, by the way, has been killing it in this second category with his viral comedy sketches. Ratings for NBC's The Tonight Show Starring Jimmy Fallon are up 46% this week compared to the same week last year.
So, how will Stephen Colbert do with the Generation Y viewers? And perhaps more importantly, will he be able to hit that sweet-spot of broad appeal that allows him to pick up a large number of new viewers–young and old?
Despite the ire of those who disagree with The Colbert Report's politics, CBS is definitely addressing the need to compete better for younger viewers.
Ranker, the leader of crowdsourced rankings of everything - with the majority of its users falling into the 18-34 age bracket - reveals that The Colbert Report ranks higher than the Late Show on almost every Ranker list that they are both on, including the Funniest TV shows of 2012(19 vs. 28), Best TV Shows of All-Time (186 vs. 197), and Best TV Shows of Recent Memory (37 vs. 166). Inching a step further, people who tend to like The Colbert Report have also been shown to like many shows that are currently in the cultural zeitgeist: Breaking Bad, Mad Men, Game of Thrones, and 30 Rock. In contrast, preference for the Late Show is correlated with older shows like The Sopranos and 60 Minutes. Between David Letterman and Stephen Colbert, it looks like it's Colbert for the win on attracting younger viewers.
There is some overlap between these audiences as fans of both shows tend to like The West Wing and The Daily Show, indicating that Colbert may be able to appeal to current fans as well as new (more mature) audiences.
About Ranker:
Ranker.com, a Quantcast Top 200 destination doing 275 million+ monthly pageviews, is a crowdsourced site and platform that consumers visit to view, rank, and vote on broad opinion-based rankings ranging from the best board games to the sexiest women over 50 to the best inexpensive cars. Outside of a few verticals such as travel and restaurants, crowdsourced answers in list format are spotty or nonexistent, even as consumer demand for opinion-based answers is far outpacing other queries. Ranker has a broad mix of engaging content ranging from "crowdsourced listicles" to more practical content presented in a datacentric format. Additionally, Ranker's technology powers polls on over 2000 websites via a distributed widget.