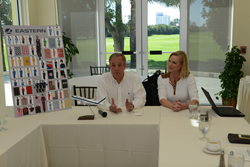 Miami, FL (PRWEB) April 14, 2014
Miami-based fashion designer participants will design female flight attendant uniforms and will be required to submit ideas for skirt, vest, blouse, pants, jackets, knee length dresses and an additional look of the designers' choice. Designers must also convey the Miami/Caribbean/Latin American look onto their designs.
Five finalists will be announced on April 21st and their outfits will be showcased at Miami Fashion Week's runway on May 15th for the final decision.
The winner's award package includes a cash prize, the title of official designer of Eastern Air Lines for a period of 3 years, a contract with EAL to design their ground crew uniforms, free airline tickets to any EAL destination, inclusion in the CBS documentary of EAL's re-launch, designer's signature collections to be featured in the EAL retail store at the Miami International Airport for the duration of the agreement, and many more prestigious opportunities.
The first runner up will receive a cash prize of $10,000, second runner up $5,000, and third & fourth place participants will receive $2,500 each. All five finalist will be showcased at the "Miami Style Showcase sponsored by Eastern Air Lines" on opening night to present their own resort/cruise collections, have their EAL collections featured on mannequin displays in the "Eastern Air Lines First Class Club Lounge" during all days of the event.
The following designers will participate in the competition:

Kayce Armstrong
Fabrizio de Castro
Julian Chang
Viviana G
Samy Gicherman
Victoria Lopez Castro
Nikki Poulos
Lisu Vega
For more information about the competition and Miami Fashion Week please visit: http://www.miamifashionweek.com.
About Miami Fashion Week:
Miami Fashion Week brings the world's trendiest and emerging designers to the forefront of the American market. This year will mark the introduction of the first international platform for cruise/resort and pre-spring designer collections. Known across the globe as the largest International and Latin American fashion event, Miami Fashion Week celebrates fashion, beauty and lifestyle, and features a unique crossover of international cultures from designers, entertainers and celebrities from around the world. Miami Fashion Week is organized with the support of the Miami-Dade County Department of Cultural Affairs and the Cultural Affairs Council, the Miami-Dade County Mayor and Board of County Commissioners and the Miami Beach Visitor and Convention Authority.
© 2014 MFW Events, Inc. All rights reserved. | Miami Fashion Week® and Miami Beach International Fashion Week are registered service marks of MFW Events, Inc.