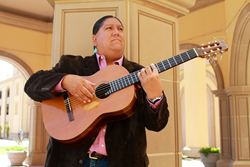 Albuquerque, New Mexico (PRWEB) April 14, 2014
El Pinto Restaurant in Albuquerque, New Mexico is mixing in with its cuisine the guitar rhythms of the Yaqui Nation's Award winning guitar virtuoso Gabriel Ayala. During the annual Gathering of Nations Pow Wow in the Duke City, Ayala will perform at El Pinto Thursday before the Pow Wow and Friday. Ayala is an internationally acclaimed classical guitarist with notable performances before the Pope in Rome, Italy, at the John F. Kennedy Center for the Performing Arts, and at the Presidential Inaugural Ball for President Obama.
For two evenings, Thursday, April 24 and Friday April 25, 2014, Ayala will fill the air for an up-close and intimate performance with music which he says is best described as "JazzMenco" – an audible collaboration of classical guitar and flamenco vibrancy. Performances will begin at 5 p.m. and will be free and open to dining guests with a conclusion at 8 p.m.
"I'm thankful that El Pinto has invited me to showcase my music to accompany an incredible establishment of such fine cuisine," said Ayala who prides himself with stretching people's perceptions of the Native American musical genre. Ayala has shared his music both nationally and internationally including performances at the Poway Center for Performing Arts, John F. Kennedy Center for the Performing Arts, and the National Museum for the American Indian.
Jim Thomas, co-owner of El Pinto states, "El Pinto is honored to connect both local and visiting patrons to an acclaimed musician such as Ayala who is celebrated in the musical community for his passion to share his knowledge of music to younger generations." John Thomas adds, "When I heard Ayala's music for the first time I was astounded. His vibrant powerful sound is something that must be enjoyed, and El Pinto is the perfect spot for it."
El Pinto Restaurant and Salsa Co. continues to expand in its 52nd year with an emphasis on serving nutritious, locally raised, and organic foods. El Pinto Restaurant has grown from a few tables in one room started by John and Jim Thomas' parents, to become the most famous restaurant in New Mexico with beautiful patios, natural wood burning fireplaces, and healthy New Mexican cuisine. El Pinto Salsa has recently expanded with the addition of the convenient single serving cup which reduces product waste and increases consumer satisfaction. The restaurant and salsa manufacturing facility are co-located on property in the North Valley of Albuquerque, New Mexico.
About El Pinto Restaurant & Salsa Co:
Established 50-years ago, El Pinto is a quintessential icon for New Mexican cuisine. Conveniently located in the North Valley of Albuquerque just off I-25, the serene patios located under beautiful cottonwood trees provide an iconic experience. El Pinto is known nationally for its fire-roasted green chile and fresh flavorful salsa distributed across the nation in local grocery stores. The salsa and green chile factory is located on the same grounds as the restaurant. For an authentic taste of New Mexico, visit El Pinto for its fresh iconic food, traditional margaritas, and award winning chile. http://www.elpinto.com