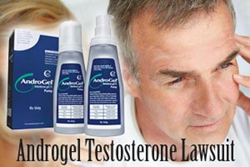 Alonso Krangle LLP is offering free testosterone therapy androgel lawsuit reviews to men who may have suffered heart problems. To learn more, contact Alonso Krangle LLP by calling 1-800-403-6191 or visit http://www.FightForVictims.com.
New York, NY (PRWEB) April 15, 2014
Alonso Krangle LLP, an experienced defective drug injury law firm, reports that plaintiffs who have filed AndroGel testosterone lawsuits alleging the low testosterone therapy caused men to suffer heart attacks, strokes and other serious heart problems are seeking the transfer of all federally-filed cases to the U.S. District Court, Northern District of Illinois, for coordinated pretrial proceedings. According to a petition filed with the U.S. Judicial Panel on Multidistrict Litigation (JPML), more than 30 AndroGel lawsuits are already pending in federal courts throughout the U.S., and plaintiffs assert that many more filings are likely. The majority of AndroGel Lawsuit complaints are pending in the Northern District of Illinois, before Judge Matthew F. Kennelly. The petition also points out that AbbVie, Inc., the manufacturer of AndroGel, is headquartered in Chicago, which is part of the Northern District of Illinois. (In Re: AndroGel Product Liability Litigation, No. 36, JPML)
According to court documents, all of the Androgel testosterone treatment lawsuits claim that AbbVie drove sales of the medication through direct-to-consumer advertising suggesting that low testosterone, or "low T", is a condition that affects large numbers of men, and that AndroGel is a safe drug that provides numerous health benefits with minimal risk. The AndroGel Lawsuits also allege that this type of marketing has resulted in many men using AndroGel even though they were never tested for low testosterone.
AndroGel and other prescription testosterone treatments were approved to treat low levels of testosterone in men who were suffering from an associated medical condition, including certain generic conditions and chemotherapy side effects. The U.S. Food & Drug Administration (FDA) launched a safety review of low testosterone therapies in January, after an observational study published in the Journal of the American Medical Association (JAMA) in November 2013 suggested that older men with underlying heart disease faced a 30-percent increased risk of stroke, heart attack, and death if they were undergoing testosterone therapy. A second observational study cited in the FDA alert suggested a doubling of the risk of heart attack in older men, as well as in younger men with pre-existing heart disease, who underwent testosterone therapy.
( fda.gov/Drugs/DrugSafety/ucm383904.htm, January 31, 2014)
Filing An Androgel Lawsuit
Alonso Krangle LLP is offering free Androgel testosterone therapy lawsuit reviews to men who may have suffered serious heart problems due to drugs like AndroGel. To learn more about filing an AndroGel Lawsuit, please contact one of the experienced consumer injury lawyers at Alonso Krangle LLP by calling 1-800-403-6191 or visit our website, http://www.FightForVictims.com.
About Alonso Krangle LLP
Andres Alonso and David Krangle, attorneys with almost 40 years of collective legal experience, have focused their law practice on the handling of significant personal injury cases, defective drug and medical device litigation, construction site accidents, nursing home abuse, medical negligence, qui tam/whistleblower actions and consumer fraud cases. A nationwide law firm representing injured victims throughout the U.S., Alonso Krangle LLP is headquartered in Long Island, New York, with offices in New York City, and New Jersey. To discuss filing a testosterone therapy lawsuit, please contact Alonso Krangle LLP at 1-800-403-6191 or visit our website, http://www.FightForVictims.com
Contact:
Alonso Krangle LLP
445 Broad Hollow Road
Suite 205
Melville, New York 11747
Toll-FREE 1-800-403-6191
Tel: 516-350-5555
Fax: 516-350-5554