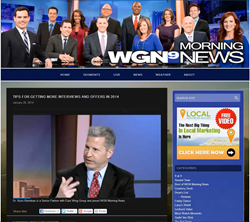 One bad hire and the 75-100k cost of a mistake is evidence of a too hasty of a hire. - Dr. Russ Riendeau
Chicago, Illinois (PRWEB) May 01, 2014
CEO's and hiring managers are two clicks away from web data and behavioral research tools when evaluating new talent. A new white paper reveals these executives are not taking advantage of this accessible information in our post-recession economy.
East Wing Search Group's Senior Partner, Dr. Russ Riendeau, and Timothy J. Tolan, Senior Partner of Sanford Rose Associates--The Tolan Group, have released a white paper titled, A CEO, Economist And A Gambler Walk Into A Casino.
The paper's humorous title is a set up to address a serious issues in talent acquisition practices. Challenges for executives to properly screen and evaluate potential hires in today's marketplace are time and lack of training, research suggests. Riendeau and Tolan teamed up in 2008 to write the book, The CEO's Guide To Talent Acquisition(Eyecatcher Press), that addressed this topic on the front end of the recession. This white paper, now six years later in 2014, reveals there are still many elements of how companies recruit, interview, evaluate and reference candidates that fall short of optimal screening choices. "Given the data available at the click of a button, there's no reason hiring managers can't incorporate current research and tools to crosscheck the consistency of a candidate's experience, profiles in social media, income claims, proven accomplishments, documented success, etc.," says Russ Riendeau.
This paper goes on to reveal gaps ( and offers solutions ) as to how executives and most hiring managers are not able to secure adequate training programs from some of the major training and HR associations in America. " CEOs and HR managers are charged with identifying the best candidates. Research demonstrates over 75% have not received any professional interview training in the past 3 years," says Riendeau. "And this lack of training is widespread farther down the organization."
Tolan and Riendeau do deliver specific alternatives and solutions to combat the lack of training and commitment that busy executives face daily. Solutions include removing consensus-based hiring practices, demanding W2 income verification before any offer is extended, and mandating a written strategic plan and presentation of the new hires first 30 60 90 days.
The competition for strong talent remains a prominent issue in corporate circles today. The temptation to eliminate segments of the vetting process, reduce interviews, and checking references and skills demonstrations is ever-present, with good candidates in high demand and more offers in their pipelines. "The results of giving in to the temptation is that one bad hire and 75-100k mistake is evidence of a too hasty of a hire," says Riendeau.
For more information, please contact Russ Riendeau at 847-381-0977. Russ Riendeau and Tim Tolan are both senior partners of their respective search practices and collaborate frequently on position papers and best practices for CEOs in talent acquisition. You can find their books on Amazon.