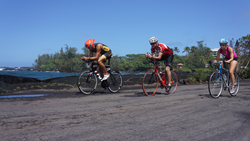 Hilo, Hawaii (PRWEB) April 16, 2014
Athletes from Hawaii to Australia, are set to queue up at James Kealoha Beach Park on Sunday, July 13 at 7:00am for Hilo's first official triathlon. This Olympic-distance race will feature a 1.5km swim, 40km bike ride, and 10km run. The race is limited to 500 participants and space is quickly filling up. Registration is $150 through May 30th, and $175 between May 31st and June 29th. Online registration closes 12:00am June 30th. For more information and registration, visit http://www.HiloTriathlon.org.
The triathlon's director, longtime resident and Hawai`i County fireman Joe Wedemann, is familiar to the East side's racing community. He is president of the Big Island International Marathon Association, and back in 1999 Joe launched the unique "Decimal Man Race." In an effort to make triathlons fun and accessible for everyone, he took the Ironman distances and moved the decimal points over by one space to make it a .24-mile swim, 11.2-mile bike, 2.62 mile run. The swim portion takes place in his 25-meter saltwater pool in Paradise Park. Wedemann stated that he got the idea of putting on his mini-triathlons from Mike Fairchild. Mike was the organizer of Hilo's first triathlon — the Coconut Man — which took place in the 1990's. Part of that course ran through the Hilo Airport but the race had to be scrapped due to increased security after 9/11.
Wedemann credits Big Island Mayor Billy Kenoi with helping to get the race off the ground. "Mayor Kenoi is committed to a healthy Hawai'i Island, and he is looking forward to spreading the excitement of a triathlon to East Hawai'i." Mayor Kenoi, who has secured his spot in the July triathlon, completed previous Honu and Lavaman races and is hoping to compete in an upcoming Ironman. Wedemann confirmed that there are plans to make the Hilo Triathlon an Ironman qualifier over the next several years.
As with other triathlons, each segment has a cut-off time in order to qualify for the next course. The details are:

7:00am — Swim start in ocean (3-6 feet deep water)
8:20am — Swim cut-off (1 hour, 20 minutes after race start)
10:50am — Bike cut-off (3 hours, 50 minutes after race start)
11:30am — Barbecue Beach Party begins, featuring live entertainment at the finish line
12:20pm — Race cut-off at finish line (5 hours, 20 minutes after race start)
1:00pm — Awards Presentation at finish line
Hilo Triathlon sponsors include KTA Super Stores, Big Island Candies, B97 Radio, Hilo Bike Hub, MidPacific Wheels, Mehana Brewery, and more. Volunteer groups include students from Waiakea High School, Hilo High School and Hilo Intermediate School Builders. Complete lists are available at http://www.HiloTriathlon.org.
All finishers will receive a T-shirt, medal and tickets for the post-race barbecue. Prizes will be awarded to the Top 5 Overall Male and Female finishers, as well as to the Top 3 in each age group. Age groups start at 10-19 years and go up from there.
Age groups start at 14-19 years and go up from there. "We're hoping that this new event in Hilo offers something new for not only the adults, but that it catches on with our kids to become something special for the whole community," said Wedemann.