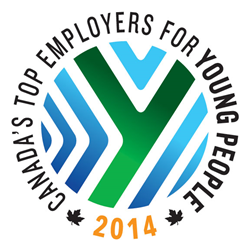 Being recognized for the great work our employees' do, the degree to which we care about and support our people, and creation of the opportunities for them to grow is deeply appreciated. - Frédéric Boulanger, CEO
Gatineau, Quebec (PRWEB) April 28, 2014
For a the third year in a row, Macadamian Technologies has been named one of Canada's Top Employers for Young People for 2014, by Mediacorp Canada Inc., as part of its annual competition. Recognized employers are considered Canada's leaders in attracting and retaining younger employees to their organizations.
"We create an environment where innovation and collaboration happens; the team is the spark making Macadamian's success day after day. I'm really proud of what we have accomplished, who we are as a team and as a company. Being recognized for the great work our employees' do, the degree to which we care about and support our people, and creation of the opportunities for them to grow is deeply appreciated," Frédéric Boulanger, CEO.
As a full-service user experience software design and development firm, Macadamian stands out for its commitment to providing award-winning software products in addition to the fact that the company has earned equal admiration for supporting the personal and professional development of both students and recent university graduates. As a founding corporate supporter of TechU.me, we collaborate with high schools to teach students about software design and development and to inspire careers in science and technology.
"Some of the unique ways we support the growth of our younger employees, is by giving them the space to innovate by providing a sports allowance, the encouragement to learn from each other, setting aside time on 'Creatividays' to pursue their passions and holding in-house 'MacHack' hackathons to stretch their capabilities." Virginie Bastien, Human Resources Director.
Macadamian was selected as a Top Employer for Young People based on Mediacorp's evaluation of the programs we have to attract and retain younger workers. Criteria include internship and co-op programs, mentorship and training programs, and bonuses paid for course or professional designation completion. Other criteria include the employer's career management program, the composition and profile of the workforce.
# # #
About Macadamian
Macadamian is a full-service software design and development firm that creates meaningful and compelling user experiences for mobile, web and desktop. With more than 1000 completed projects worldwide, Macadamian has partnered with some of the biggest brands including Twitter, Linkedin, Microsoft, BlackBerry, and LogiTech. From napkin sketch to market ready, we are dedicated to ensuring that our healthcare solutions improve interdisciplinary team effectiveness, patient engagement and outcomes. Macadamian is headquartered in Gatineau, Canada and also has offices in the United States, Armenia, and Romania. Visit http://www.macadamian.com or contact via phone at +1 877 779 6336.
SOURCE MACADAMIAN TECHNOLOGIES
For further information:
Macadamian contact:
Vani Edwardson
Director of Marketing
Tel: +1 819 772 0300
Email: vedwardson(at)macadamian(dot)com