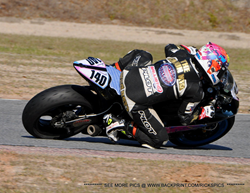 We had a set of goals we wanted to achieve this weekend and we met them all.
Plymouth,WI (PRWEB) April 15, 2014
Jason Duplantis, aka the Cajun Kid, placed a best result of 3rd at the CCS GTU race at Carolina Motorsports Park over the weekend, earning the first Championship Cup Series podium finish of the year for Jason Duplantis Racing. Duplantis followed the milestone up by finishing 6th in the 600 Superbike race, and 7th in the 750 Superbike race.
Jason started his first event, the Expert GTU race, from the fourth row. By the third lap of the 25-minute event, he had moved into 5th position. A red flag in the fourth lap led to a pause and the race was restarted with new grid positions. After the restart, Duplantis made his way into third with an eye on the second place rider, but was unable to pass finishing just .05 behind him.
Despite a grid position in the last row for the 750 Superbike event, Duplantis passed nine riders over the course of five laps to finish 7th. A back row start once again for the 600 Superbike race was not a discouragement as Jason found himself quickly placed in the top ten by the start of the fourth lap, ending up with a 6th place finish.
The Cajun Kid expressed his satisfaction with the event: "Super pumped about the way this weekend went. We had a set of goals we wanted to achieve this weekend and we met them all. This was my first time racing at CMP and I was able to drop 3.5 seconds off of my best time. We also scored our first expert podium finish at a Championship Cup Series event. We worked really hard to get the bike set up and we improved our lap time every time we went out. I have to give a special thanks too Seth Starnes, Greg Melka, and Chip Spalding for helping me get the right base set up and a good plan on how to attack this weekend. I also want to thank my sponsors Millennium Technologies, KWS Motorsports, Velocity Powersports, and Ballistic."
You can follow Jason Duplantis' racing season at https://www.facebook.com/CajunKid.
To soup your motorcycle up like the Cajun Kid, visit http://www.mt-llc.com.