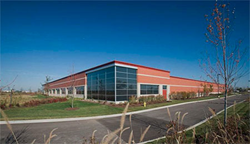 OIX from our perspective is an ideal platform to compel fiber carriers to build into our facility, and to create a transparent and efficient peering environment in our meet me room. - Eli Scher
West Chicago, IL (PRWEB) April 15, 2014
Colocation solutions provider New Continuum Holdings Corporation dba Continuum Data Centers ("Continuum") announces that its new, Tier III data center, CDC 603 has been certified by the Open-IX (OIX) Association. OIX is a non-profit industry group formed to promote better technical and operational standards for data center interconnection and Internet Exchanges throughout North America. CDC 603 is among the first data centers in the Chicago region to receive certification.
"We are extremely excited to receive data center certification from OIX, and eager to participate in the continued growth of the organization," said Eli D. Scher, CEO of Continuum. "OIX from our perspective is an ideal platform to compel fiber carriers to build into our facility, and to create a transparent and efficient peering environment in our meet me room." He continued "the fiber density and diversity we are currently building ultimately serves our customers and makes our facility a more integral part of the IT infrastructure landscape."
The OIX Association is adopting the European nonprofit model in which exchange operations are spread across multiple data centers in a specific geographic market. The goal is to create a new network of Internet Exchange Points housed in multiple neutral data center facilities that allow participants to interact and exchange content.
"The OIX certification process requires companies to submit relevant information to the Data Center standards committee for their review," comments Dan Golding, Vice Chair of the Open-IX Association. "Through this process, members of OIX have the opportunity to review, add comments and provide necessary recommendations in order to become compliant. CDC's transparency throughout this process has resulted in its certification achievement and is commended for its dedication to the technical and operational standards set forth by the Data Center Standards Committee."
World Class Infrastructure and Robust Network Connectivity
Continuum's CDC 603 is a world class asset on a 20-acre campus with ample expansion power, land and rich fiber resources. Neighboring Fermilab, the DOE-funded national research institution, and within 5 miles (line of sight) of the Aurora CME, CDC 603 is situated in a highly risk averse environment well outside traditional terrorist and natural disaster threat zones. CDC 603 is ideally suited for production, disaster recovery and content delivery. The facility is built to Tier III standards, and employs best in class technology in all components of its operations.
Continuum maintains the highest standards of transparency and flexibility and complies with various technical requirements and applicable regulatory or industry-specific requirements such as Sarbanes Oxley, HIPAA, and PCI.
###
About Continuum
Continuum Data Centers ("CDC") is a multi-tenant data center operator in the western Chicago suburbs. The team at CDC has been at the forefront of the Chicago suburban colocation market for over 10 years, and has a track record of developing world class assets. The Company is currently re-developing to operate an 80,000 square foot, purpose-built, highly efficient Tier III+ facility in West Chicago, IL. CDC develops or seeks to own assets which are differentiated by their geographic location or other inherent traits. In doing so, the Company aims to consistently provide its customers with superior risk aversion profiles. CDC's team has the experience and expertise to manage the needs of a diverse customer base, including trading and financial firms requiring high-density, efficient computation, as well as Enterprise and Fortune 1000 companies and retail customers requiring primary colocation. To learn more about Continuum, call 877-432-2656 or please visit http://www.continuumdatacenters.com.
About OIX
The Open-IX Association (OIX) is an Internet community derived effort to improve the landscape of Internet peering and interconnect in the United States. OIX encourages the development of neutral and distributed Internet exchanges in North America while promoting uniform, cost-efficient standards of performance for interconnections backed by the Internet community. The association aims to promote common and uniform specifications for data transfer and physical connectivity and improve IX performance by developing criteria and methods of measurement to reduce the complexity that restricts interconnection in fragmented markets. The OIX Board is comprised of volunteer representatives from the Internet community in the United States, including Paul L. Andersen; Donald S. Clark; Dan Golding; Martin Hannigan; Keith Mitchell; David Temkin; and Barry Tishgart. More information about OIX can be found by visiting http://www.open-ix.org.