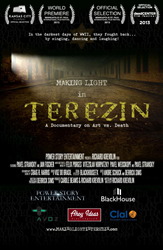 'Moving... Miraculous... Life altering... 'Making Light in Terezin' shines brightly in the face of Nazi terror.' -- S.K. Shelton, The New Haven Register
Los Angeles, CA (PRWEB) April 15, 2014
Acclaimed author, screenwriter and director, Richard Krevolin, announced today that "Making Light in Terezin," will be released to the public on Tuesday, April 22, 2014, in commemoration of Yom Ha'Shoah, Holocaust Remembrance Day on April 28. The remarkable film tells the true story of how, in the darkest days of WWII, Jewish prisoners fought back against the Nazis by singing, dancing and laughing.
The 87-minute long documentary is the culmination of two years of work by Krevolin who, during the summer of 2011, lived in the Terezin ghetto outside of Prague in the Czech Republic where he directed the key scenes in "Making Light in Terezin."
The worldwide release will be offered in several formats: hardcopy book, ebook, Video on Demand and DVD release. "Making Light in Terezin" will be featured on iTunes, Amazon Instant, Vudu, Google Play, YouTube Rental and XBOX. (You can pre-order now on Amazon.) There will also be a film screening and discussion held on April 19 at the JCC Center for Jewish Life and Learning in Los Gatos, California.
"Making Light in Terezin" follows a modern-day Minnesota theater group as they travel to Terezin to perform a cabaret piece originally created and enacted during WWII. Weaving together interviews with performers, Holocaust survivors and scholars discussing Jewish humor, Jewish history and more, it tells a story not only of survival but also the triumph of a culture, artistic expression, and the human spirit.
According to Krevolin, one of the most inspiring moments in "Making Light in Terezin" occured when he interviews Holocaust survivor and cabaret lyricist, Pavel Stransky, age 93. Stransky lived at the Terezin concentration camp during December 1941 through 1943.
Every Wednesday during his time at the camp, Dr. Josef Mengele, an officer and physician known for the selection of victims killed in the gas chambers and for performing human experiments on prisoners, stopped by Stransky's classroom to make the selection. Stransky never became bitter; instead, he spoke only of forgiveness and love. Interested viewers can get a sneak peak of Stransky's story here: https://www.youtube.com/watch?v=ogguOPv5fqo.
Instead of focusing on the horrors of the Holocaust, this film, like the Academy Award winning short, "The Lady in Number 6" (which tells of the life of Terezin survivor Alice Herz-Sommer) offers another perspective – it's a celebration of the creative artistic spirit that was alive in the prisoners of Terezin in 1943 despite the atrocities of war.
"'Making Light in Terezin' is simply a story about a journey to a dark time in humanity, out of which emerged some light," said Krevolin. "It is a story of how the arts and comedy offered a few of the individual moments of comfort, escape, and hope that are essential for survival in the worst of circumstances. I make no claims to be a Holocaust scholar, and this isn't an academic treatise. I was inspired and moved by their stories of how they made light of a horrible situation, one that is beyond what any of us could imagine, and how, in doing so, they filled their empty stomachs with laughter and love."
Writer, director and producer, Krevolin is available for interviews from now until April 25th. The trailer for the film can be seen at: https://www.youtube.com/watch?v=sTJSYPKRhIQ.