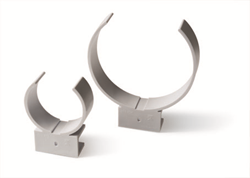 Kansas City, Missouri (PRWEB) April 17, 2014
Rough plumbing manufacturer, Sioux Chief, has introduced its new ComboSaddle™ DWV pipe support, which is specifically designed to be used with its ever-popular PowerBar™ Universal Slider Bracket.
The ComboSaddle is the ideal product for centering pipe between floor joists. Each ComboSaddle is multi-sized to hold two different sizes of Sch. 40 pipe. The 523-712W model supports 1½" and 2" DWV pipe and the 523-734W model supports 3" and 4" DWV pipe.
Made from durable white ABS, the ComboSaddle can be glued to the pipe using all-
purpose cement. It attaches to the front or back of the galvanized PowerBar bracket, which is sold separately. DWV Combo Saddles are packaged 10 per bag and include screws for attaching the saddle to the bracket. Free sample packs are available.
Visit http://www.siouxchief.com to find a sales rep near you.
More about Sioux Chief:
Since 1957, Sioux Chief has manufactured innovative plumbing products. It is a leader in providing rough plumbing solutions for residential, commercial, industrial and government applications. Sioux Chief's comprehensive product line is comprised of three core groups: Supply, Drainage and Support. Sioux Chief Products are sold to qualified wholesale distributors and retailers worldwide. The company is headquartered in Peculiar, Missouri — just outside of Kansas City. For more information, please call 1-800-821-3944.
Contact Information:
24110 South Peculiar Drive
Peculiar, MO 64078
1-800-821-3944