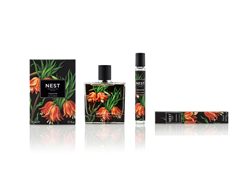 NEST Fine Fragrances has had a very impressive response; our first five fragrances have really resonated with Sephora's clients.
New York, NY (PRWEB) April 15, 2014
NEST Fragrances, a leading designer and manufacturer of luxury scented products for the body, home and bath, today announced the expansion of the NEST Fine Fragrances Collection at Sephora.
Building upon the tremendous success of the original collection of five distinctive fragrances launched at Sephora in October 2013, the collection has been expanded to include Indigo and Paradise – two exceptionally composed bespoke fragrances that are exclusive to Sephora.
"NEST Fine Fragrances has had a very impressive response; our first five fragrances have really resonated with Sephora's clients," said Laura Slatkin, Founder and CEO of NEST Fragrances. "The two new fragrances represent an artful and complex composition of rare and unique fragrance notes. Channeling a mood that is vibrant and uplifting, Paradise is a luminous blend of Mediterranean blood orange and white ginger, masterfully balanced with cedarwood and watery nuances. Indigo introduces exotic and woody notes of Moroccan tea, Kashmir wood and black cardamom, enhanced with hints of wild fig and bergamot."
Continuing the tradition of combining fine art with fine fragrance that began when she developed the original NEST Fine Fragrances Collection, Slatkin once again drew inspiration from the lush and sensual botanical artworks of 18th Century British artist Mrs. Mary Delany when creating the sophisticated and luxurious packaging for Indigo and Paradise. Working closely with the talented Russian artist Alexander Solodukho – a longtime creative collaborator – Slatkin painstakingly and meticulously honed the artwork before presenting the final versions to world-renowned master perfumers, who then used the original artwork as inspiration to formulate the extraordinary new fragrances.
Indigo and Paradise are available for purchase in specially designed 1.7 Fl. Oz. (50mL) Eau de Parfum Spray flacons for $65, and 0.27 Fl. Oz. (8mL) Eau de Parfum Roller Balls for $25. Along with these two new fragrances, the entire NEST Fine Fragrances Collection for Sephora is available for purchase now on Sephora.com and in 175 select Sephora stores across the United States. In addition, Sephora.com features a wide assortment of NEST Fragrances' luxury home fragrances and personal care products for purchase.
EDITORS: To obtain product samples and high-resolution images, please contact Tim Rossi (contact information above).
About NEST Fragrances
Founded by renowned fragrance expert Laura Slatkin, NEST Fragrances ("NEST" or the "Company") is a leading lifestyle fragrance brand that designs and manufactures a wide assortment of luxury scented products for the bath, body and home. Featuring a variety of exceptional personal care, home fragrance and fine fragrance collections, NEST combines chic packaging with exquisite fragrances specifically designed to enhance one's everyday living and entertaining experience. Well-known for her impeccable sense of style, Laura Slatkin created NEST for those who aspire to enrich their lives and environments with the essences of luxury, sophistication and beauty through fragrance. NEST products are sold at Bergdorf Goodman, Neiman Marcus, Saks Fifth Avenue, Bloomingdale's, select Nordstrom stores, and a wholesale customer network of more than 1,200 boutique stores across the U.S. The NEST Fine Fragrances Collection for Sephora is sold exclusively at select Sephora stores across the U.S. and Sephora.com. For more information, visit http://www.nestfragrances.com.
# # #