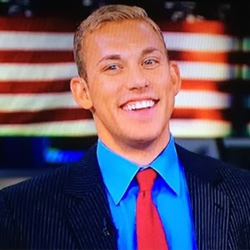 The dynamic and volatile nature of trading means ongoing options education is crucial in order for traders to maintain profitability.
Chicago, IL (PRWEB) April 15, 2014
Renowned options trader and financial TV news contributor Andrew Keene will host the "Trade Like a Market Maker" webinar May 1 at 8 p.m. Eastern Standard Time. Keene—an options market-trader with more than a decade of experience trading on the floor of the Chicago Board Options Exchange (CBOE)—will reveal proven equity options trading strategies using the techniques he and other market-makers have successfully employed on the exchange floor. The best way to learn options trading techniques, this course will offer a rare opportunity for individual traders and investors to learn how to build their portfolios by applying proven options trading strategies that work.
A skilled options trader who made millions trading options before starting his own business where he now educates more than 700 traders per day—Keene will live-host the one-day-only "Trade Like a Market Maker" webinar. Traders will learn how to meld the skills of the traditional trading floor with modern electronic trading techniques into a single, powerful trading plan. Keene, who started trading 12 years ago at the CBOE, will share his secrets on how he was able to successfully transition his trading strategies from the open-outcry environment of the trading floor to electronic trading from a computer screen.
"I built my entire career on the trading floor, so parting ways with traditional means of trading was a big adjustment for me," Keene said. "After witnessing too many successful floor traders start to struggle and lose money on the screen, I became motivated to master the change."
He continued, "Rather than be intimidated by the switch to electronic trading, I used my fear of the unknown as motivation to hone my craft and take advantage of what this 'new wave' of trading had to offer."
Keene, author of "Keene On The Market: Trade To Win Using Unusual Options Activity, Volatility, & Earnings," began educating retail options traders when he started KeeneOnTheMarket.com as a blog. The site's fast-growing popularity quickly put KeeneOnTheMarket.com in high-demand, and the blog quickly evolved into the full-service trader-education company it is today. Today, Keene continues to trade actively, trading up to 2,000 equity option contracts in a day without the use of algorithms or black box trading models.
"The dynamic and volatile nature of trading means ongoing options education is crucial in order for traders to maintain profitability," Keene said. "Trade Like A Market Maker" will teach retail traders how to think like professionals by using the same strategies that allow market-makers to beat the market."
Hailed as one of the most acclaimed options traders in the world, Keene believes at-home traders can enjoy the same success as professionals when they acquire the right skill set. The "Trade Like a Market Maker" webinar aims to educate as many traders as possible at the affordable price of $97.
The "Trade Like A Market Maker" online seminar will cover the following topics:

How to use put-call ratios to determine overall investor sentiment in a stock
Using the market-makers targets to trade iron condors
The best time of day and week to trade credit and debit spreads
Choosing to trade credit versus debit spreads
How to potentially profit 600% in options using the market-makers targets
The course will include a recording that attendees may review at their own pace, in addition to five hours of supplemental material. This material includes the one-hour course, "Secrets of a Market Maker No One Else Will Share," and four hour-long "Opening Bell" recordings, where Keene's strategies from "Trade Like a Market Maker" will be put into action using his own trading account.
To register for the course, go to http://www.keeneonthemarket.com/marketmakerseminar.
About Andrew Keene:
Prior to founding KeeneOnTheMarket.com in 2011, Andrew Keene worked as a proprietary trader at the Chicago Board Options Exchange. Keene graduated from Botta Capital's clerk-to-trade program to become known as one of fasted traders to 'make a market.' As a market maker he traded options in over 125 stocks, including Apple, General Electric, Goldman Sachs, and Yahoo. Keene left Botta Capital to co-found KATL Group, where from he was the largest, independent on-the-floor Apple trader in the world. Andrew currently actively trades futures, equity options currency pairs, and commodities. He regularly appears on CNBC, Bloomberg Television, and Fox News. His first book, Trade to Win Using Unusual Options Activity, Volatility, and Earnings currently available from Wiley Publishing. Andrew received a B.S. in Finance with a concentration in Accountancy from the University of Illinois.
About KeeneOnTheMarket.com:
KeeneOnTheMarket.com was founded in 2012 by options trader Andrew Keene with the goal of providing Options traders with proven techniques for profitable trading. With more than four decades of collective options exchange floor experience, KeeneOnTheMarket.com's options trading plans have withstood the test of time and are compatible with any market environment. Keene watches more than 2,000 trades each day from every options exchange, which allows subscribers to gain access to in-depth order flow analysis in real-time. KeeneOnTheMarket.com offers unparalleled insight into the biggest institutional bets in the marketplace. A 24-hour response is guaranteed to all trader queries.