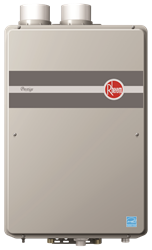 Condensing Rheem Prestige Gas Tankless Water Heaters are ENERGY STAR qualified.
Fairview, OR (PRWEB) April 15, 2014
GP Conservation, a premier online resource for energy efficiency and water conservation products, is now carrying the Rheem PrestigeTM line of gas tankless water heaters. These top-of-the-line water heaters combine excellent performance, efficiency and affordability.
The PrestigeTM line from Rheem utilizes condensing technology to achieve 94% efficiency. This means that instead of venting the air from combustion directly to the outside, this air is recirculated to extract additional heat which is transferred to the water. Plus, unlike a traditional tank style water heater, a Rheem gas tankless tankless water heater only operates when the hot water is turned on. Since there is no tank of water to keep hot, no energy is used (or wasted) when the unit is not in use. The result is not only a more efficient appliance, but a lower gas bill.
The advantages of a Rheem PrestigeTM condensing gas tankless water heater go beyond efficiency. The units are compact so they save space in a utility closet, basement or garage. Rheem tankless water heaters offer a low activation rate which means the water heater is activated without turning the water on high, and they are compatible with low flow fixtures. Plus, they provide continuous hot water for any number of showers, loads of laundry, or dishes at the kitchen sink – the hot water never runs out.
Rheem PrestigeTM tankless water heaters are available as natural gas tankless water heater as well as propane gas water heater models. Rheem gas tankless water heaters are packed with features that make them a great choice for any homeowner:

Backed by a 12 year manufacturer warranty for peace of mind
Digital Remote control for ease of use
Intelligent electronic controls designed to increase energy efficiency and safety
Self-diagnostic system for easy installation and service
GP Conservation is now stocking the full line of Rheem PrestigeTM tankless water heaters, so there is a model available to meet the needs of any family and any home. For help finding the right tankless water heater, contact a knowledgeable GP Conservation representative today.