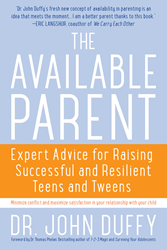 I highly recommend this book to parents and practitioners alike. —PsychLinks
(PRWEB) April 15, 2014
Dr. John Duffy, clinical psychologist, and author of the bestselling The Available Parent, proposes a counter-intuitive strategy to texting and parenting. Hear more of his parenting advice on Steve Harvey, where he appears as his national parenting expert.
In a recent article on the Huffington Post, Dr. Duffy shares a daily experience parenting his own teenager, and his views and professional opinion on texting. He asserts that texting is a way to communicate with teenagers that doesn't feel like helicopter-parenting. He says parents that refuse to text are actually missing out. "Texting with your kids can be a very, very good thing if you allow it to be. It is an excellent way to make a connection, touch base for a moment, make a mark or a point, briefly, without helicopter-ing. It provides a really great boundary between older kids and parents, allowing a wider berth of freedom, trust and connection than most any other techie advance to date."
Dr. Duffy's response to the idea that if teenagers want to talk, they can call is that, "stubbornness more often than not results in a dearth of any communication whatsoever, radio silence. No updates on work or dance recitals. No checking in to see how she's doing. No quick 'I love you.' She has, in effect, removed herself from the familial grid."
Instead of refusing to text, or insisting teenagers who have grown up with cell phones must call, Dr. Duffy suggests learning to change with the times, and using texting to enhance communication, not replace it.
John Duffy is a clinical psychologist and certified life coach with a thriving private practice in the Chicago area. Dr. Duffy works with both teens and adults and specializes in helping parents maximize satisfaction and minimize conflict in their relationships with their teenagers. In addition to clinical work, Duffy also consults with individuals, groups and corporations in a number of areas, including Emotional Intelligence, stress management, balancing work and family, conflict resolution, goal-setting and the power of thoughts in bringing about change. The Available Parent is also available as an audiobook.