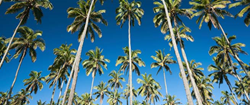 Kauai's East Side hotels and resorts, even with significant upgrades, continue to maintain consistently affordable lodging rates at their oceanfront properties ... Hilmy Dole, president, Royal Coconut Coast Association.
Kauai, Hawaii (PRWEB) April 17, 2014
Several resorts on Kauai's Royal Coconut Coast, also known as Kauai's East Side, are investing over $9 million in 2014 on room and building upgrades. This follows last year's completion of $20 million worth of resort and golf course improvements in the area. The most significant investment ($8 million) is at the Kauai Sands Hotel, an ocean front property. It will result in a complete upgrade of all rooms with new furnishings, new fixtures, new décor, and new bedding. Complete re-landscaping and a new restaurant are also in the plans. This project started in the fall of 2012, with the final phase of room renovations finished up by June. The new restaurant will open in September. Hotel General Manager, Hilmy Dole, predicts that the rating for the newly renovated property will rise up over the three star mark. At Pono Kai Resort, another popular oceanfront resort on the Royal Coconut Coast, almost $700,000 is being spent on buildings, grounds, kitchen tile and appliance upgrades, new audiovisual systems, living area furniture and air conditioning systems. These improvements are targeted for completion in June. At Plantation Hale Suites another 22 rooms are receiving a complete renovation at a price tag of $350,000, which will finalize significant upgrades for all suites, an ongoing project since 2012. Completion date is my mid-May. For more information, go to http://royalcoconutcoast.com/accommodations.
The Royal Coconut Coast region is known for providing a range of accommodations classified in the affordable category with a broad mix of hotel, condominium, time share and vacation rental units situated along the ocean. Some properties have upgraded enough to be competitive with higher end properties found in many of Hawaii's resort destinations. However, a number of the Royal Coconut Coast lodging choices continue to provide attractive rates, considered in the "affordable" range. For more information, go to http://royalcoconutcoast.com/accommodations.
The Royal Coconut Coast region of Kauai is located between the towns of Wailua and Kapaa. It also referred to as Kauai's East Side. This region is home to the famous Wailua River, a dozen resorts and hotels, several small inns and vacation rentals as well as numerous restaurants and shops. The area is known for its central location, for being a pedestrian town, and for providing a spectacular coastal bike path.
Background: The Royal Coconut Coast Association is a non-profit corporation, officially established in late 2012. The organization acts as a central source of information about features in the Wailua to Kapaa corridor of Kauai including public and private attractions, businesses and area events. A Board of Directors representing the founding members along with other businesses and organizations governs the association. For more information, email info(at)royalcoconutcoast(dot)com or go to http://royalcoconutcoast.com.
####
Photos available upon request by contacting Margy Parker, mp(at)margyparker(dot)com, 808-651-5394