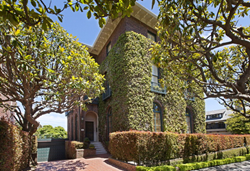 The measure of this fine home is certainly not the price. It is a remarkable, iconic San Francisco residence and one of the most widely admired
San Francisco, CA (PRWEB) April 16, 2014
HomesSF.com, HomesSF.com, a San Francisco real estate website, reported that luxury property agents, Peggy Economos and Kirk Economos, represented the buyer of the coveted single family home at 3660 Jackson Street that topped the SFH sale charts for MLS listings in 2013.
In San Francisco, where property architecture and aesthetics are part of the city's heart and soul, 3660 Jackson Street is a stand-out property that speaks of history, refinement and strength. The sale of the property that was listed for $17.5 million and closed in July of 2013 made it the most expensive MLS listed single-family home sold in San Francisco for the year.
3660 Jackson Street is located in the Presidio Heights neighborhood of San Francisco. Presidio Heights is considered by many to be one of the top two neighborhoods in the city, the other being Pacific Heights. Both of these neighborhoods feature San Francisco's finest single-family homes but of the two, Presidio Heights tends to be a less formal, more family friendly and feature more tree-lined streets
The house itself is magnificent. The beautiful grounds of the property are bounded to the North by the wall of the Presidio National Park; 1400 acres of natural beauty within the city of San Francisco. The house and the grounds have inspiring views of the National Park and San Francisco Bay.
The home, which is a bit less than 9,000 square feet, features 6 bedrooms, 6 full bathrooms, a half bath and 6 fireplaces. It was built in 1907 and presents itself in a stately, ivy-covered fashion.
In the year 2013 there were over 2650 single-family homes sold in San Francisco that were included in its Realtor's Multiple Listing Service. 3660 Jackson Street was not only the most expensive but surpassed the nearest high priced home by a wide margin.
Peggy Economos said; "The measure of this fine home is certainly not the price. It is a remarkable, iconic San Francisco residence and one of the most widely admired."
Peggy Economos and Kirk Economos are San Francisco luxury residential property specialists with Pacific Union International, Christies International Residential Real Estate at their Presidio Offices in San Francisco. They are a wife and husband team that brings together complementary skill sets and decades of experience.
HomesSF.com offers a wider perspective than just the local San Francisco luxury market. The site offers information on the San Francisco market as well as news, insight and information on national and global high-end properties and markets.
For buyer and seller representation, real estate information in San Francisco or for a qualified luxury property agent referral in your specific area contact: Peggy and Kirk Economos, http://HomeSF.com , (415) 271-6390.