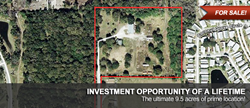 Buy when the value hits rock bottom and then simply sit back and wait for prices to rise or add value – and rake in the profits.
St. Petersburg, FL (PRWEB) April 22, 2014
When it comes to real estate foreclosure auctions, those who know where to find the right deals are cashing in. This Saturday night, April 26th at 8pm, viewers from around the nation will bid live from their living rooms for a chance to win one of the hottest investment properties available in the market today.
To participate, viewers must register to bid in advance. You can register to bid here.
Whether the strategy is buy and hold for rental or buying vacant land lots to build and resell, investors always make their money on the front end, by buying it right in the first place.
That's where real estate auctions come into play. Auctions like America's Auction Network, are offering these deals on a weekly basis.
How do they do it? They've got their own internal brokerage that scours the real estate market looking for opportunities to share with the world. Once they've found the best real estate investments, they let their viewers cherry pick. Florida investment property is among the more popular types on the show. They can be seen 3 days per week at 8pm.
For savvy investors, crisis means opportunity. It's the primary rule for some of the world's most successful businessmen . They buy when the value hits rock bottom and then simply sit back and wait for prices to rise or add value – and rake in the profits. This play comes into its own in the world of real estate.
Now, a deeply distressed property doesn't automatically equal great deals. Like any investment, you must do your due diligence and buy it right. After that, strategy, timing of the market and location of the property are everything.
Most people equate real estate auction and foreclosure with distressed property, which means that the property needs extensive repair, but that is not always the case. Many times, the owner of the property ran out of funds and walked away or knows they are going to run out of funds very soon so they are selling property in a hurry. In fact, most of what you see on AANTV is not distressed. The properties are in fantastic condition.
If you're in the market for great real estate investment opportunities and want to try out the convenience of the arm chair purchase from your living room with a remote control, tune in to the show and see for yourself.
The real estate auction show airs every Saturday, Monday and Tuesday at 8pm EST.
See the Real Estate Auction Catalogue by AANTV here.
About America's Auction Network:
AANTV is a live TV Auction & Shopping Channel that is on-air 24 hours, 7 days a week on the following networks:
Watch Online Streaming on aantv.com
DirecTV ch. 324
Dish Network ch. 219
Time Warner
Bright House ch. 165
RLTV 2am - 6am
America's Auction Network is a licensed and bonded auction house bringing you the best in fine Jewelry and Gemstones, Rare Coins and Currency, authentic one of a kind Persian and Afghan Carpet and Rugs, Modern, Estate and Fine Art, Antiques and Collectibles and Coast to Coast Foreclosed Real Estate.