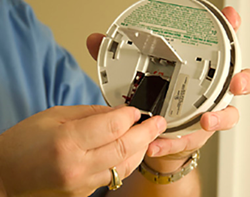 Many of these tragedies are killing or injuring people long before the fire departments even get called. Don't go to sleep tonight without pressing that little test button on the bottom of your smoke alarm. - St. Paul Fire Chief Butler
Minneapolis - St. Paul, Twin Cities Minnesota (PRWEB) April 15, 2014
As winter concluded, the highest number of Twin Cities fires in 35 years claimed lives that may have been saved with better smoke alarms. Structure Tech, located in St. Louis Park MN says, "The vast majority of residential smoke alarms are ionization alarms, which take a long time to respond to smoldering fires. In many cases, they respond too late."
"While we all grieved to hear of a neighbor or Minneapolis family that lost their home to fire, the good that comes out of it is that it serves as a reminder to update Minneapolis home smoke alarms. We can ensure that other homeowners may live independently and safely in their homes," says Jenna Thuening owner of Home Destination. Take time to stop and see if your home would be better protected with a new smoke alarm or by installing more smoke alarms in additional areas.
The first quarter of 2014 has already witnessed two deadly fires in Minneapolis. One took the lives of five children in a residential home on February 14th, and another left two adults dead on March 11th. In both cases, smoke alarms were present but failed to save their lives, according to CBS Minnesota. The fires that snuffed out their lives invoke memories of January news of a Quebec 52-unit, senior home that only had sprinklers installed in a newer wing of the senior home that burnt down. Some seniors residing at Residence du Havre were wheelchair-bound and suffered from diseases such as Alzheimer's and were incapable of responding quickly during the fire.
The Stillwater MN Fire Department has been working for years to better serve the growing population of senior homeowners who may not be able to reach a smoke alarm to change its batteries or hear the alarm go off. They urge metro residents to care for senior neighbors and see that their smoke alarms are installed and running correctly.
Home Destination has compiled 4 tips on improving a home's protection against fire/smoke/radon, and therefore better protection for loved ones:
1. Go Quality with Both Smoke Alarm & Battery - Buying a better smoke alarm means gaining help to remember that keeping the smoke alarm's battery charged and working must be attended to. At least upgrade to a high quality battery. Some come with remote testing and notification features.
2. Know The Smoke Alarm Model - Check out each smoke alarm's status and add the process to a routine Home Maintenance Checklist (if it is not already). Know if the smoke alarm model offer protection is supposed to have the unit changed every 10 years,5 years or whatever.
3. Check on Your Parent's Smoke Alarm - Statistics show that seniors are at higher risk of fire safety due to old smoke alarms. It is a startling statistic that the death rate is higher (as a percentage) in fires in which a smoke alarm was present but did not operate (1.94 deaths per 100 fires). A senior who has owned the same home for a long time, may need to update smoke alarms that have been overlooked.
4. Buy a Smoke Alarm that Includes Radon Testing - Seniors may not be aware that radon is the second leading cause of lung cancer. Radon is a radioactive gas no one with perfect vision can see. Radon does not leave a taste or smell and yet may be completely undetected in the air of a home. The EPA says: "One in three homes tested contain higher than acceptable levels of radon, it is found in every state and is estimated to be in 8 million US homes".
"There is an emerging market for smoke and carbon monoxide alarms that prove to be smarter and easier to keep your home safe. Instead of the standard fallible alarm, you can now purchase a smarter option that allows you a better peace of mind without annoying side effects," adds Thuening. Homeowners are more likely to have alarms and keep up with battery changes with a better product.
Rebuilding Together Twin Cities offers a Safe At Home Program that vulnerable individuals or singe-family homeowners that are senior can take advantage of. Minneapolis firefighters will come out to a home and install a new smoke detector and make sure it's working right. Call 311 for more information on home fire safety and prevention. Many Twin Cities fire departments offer reduced price, or even free, smoke alarms - all of which increase a homeowner's peace of mind and insure that home safety issues are better cared for.
Home Destination has a legacy of offering homeowners in the Twin Cities key tips and resources to protect their homes and their loved ones who live in them. Call 612-396-7832 and ask for Jenna Thuening for guidance on housing needs for both Twin Cities home buyers and sellers.