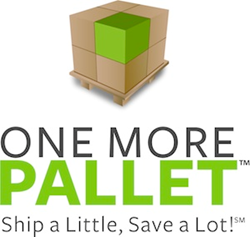 Our service creates a win-win for small business shippers, the trucking companies, and by maximizing truckload capacity, we help reduce fuel consumption and emissions.
Cincinnati, OH (PRWEB) April 22, 2014
OneMorePallet, a discount freight shipping web site received an investment of $325,000 from Queen City Angels (QCA), an angel investment group based in Cincinnati, OH. The investment will increase customer acquisition efforts, and further improve the customer experience on the site.
"OneMorePallet has built an online marketplace to help small businesses reduce freight shipping costs; make the trucking industry more efficient; and reduce natural resource waste," says QCA member John Habbert.
"We believe in their model, and we know Bill is a top-notch entrepreneur with a lot of experience in starting and running companies," adds Habbert.
OneMorePallet's technology matches small businesses that need to move freight shipped on pallets with less-than-truckload (LTL) carriers that are looking to fill unused space at a discounted rate. There is empty space on LTL trucks, on average, 30-40 percent of the time. Small businesses get a lower-cost shipping alternative (up to 50 percent off already discounted retail rates) with easy online ordering and credit card purchasing. Carriers maximize their profits by adding more pallets on trucks that are already on the road. OneMorePallet manages the transaction, which takes 10 minutes or less.
Customers name their own shipping price, and OneMorePallet's software determines if there is a match. If there is no match, customers can raise their bid or try again later as the market dynamics with supply and demand. OneMorePallet takes a small fee for every transaction. Typically the shipment is picked up in a day or two. Carriers get paid when they complete delivery, so they are incentivized to fill the order quickly.
"Our service creates a win-win for small business shippers, the trucking companies, and by maximizing truckload capacity, we help reduce fuel consumption and emissions," says Bill Cunningham, founder and chief executive officer of OneMorePallet.
OneMorePallet's target customers are U.S.-based small business manufacturers, distributors, and even breweries with under $10 million in sales that don't ship enough volume to get bulk-rate carrier discounts. Since launching in late 2012, OneMorePallet fulfilled over 300 shipments for 75 customers. Key customers include iWireless, National Band and Tag Co., Rheingesit Brewery and Mt. Carmel Brewing Company.
"Over 46 percent of our customers shipped more than once, and we are focused on increasing our repeat business," says Cunningham.
OneMorePallet has relationships with 32 carriers, which covers 94 percent of the country. The company's network of national carriers includes: Old Dominion, YRC Freight, Road Runner, and the Castellini Group of Companies.
OneMorePallet has raised $692,000 to date, and is in the process of raising another $350,000 to ramp up its digital marketing efforts and reinvest in the company's software. UpTech, a Northern Kentucky startup accelerator, private investors and the founder funded the seed round.
About OneMorePallet:
OneMorePallet is a discount freight shipping site that helps small businesses reduce shipping costs by filling unused truck space. Our Pallocator™ system instantly matches pallet shipment needs to excess available space at great rates with national, name-brand carriers. If delivery timing can be flexible, savings can be big — up to 50% off already discounted retail prices. The online quoting and ordering process is fast, credit card payment is easy, and our delivery service network is reliable. OneMorePallet enables small businesses to save money and time on freight shipping, regardless of their volume, and helps carriers fill their truckloads and operate more efficiently, resulting in improved profitability. Visit us at http://www.onemorepallet.com, or call 855-438-1667.